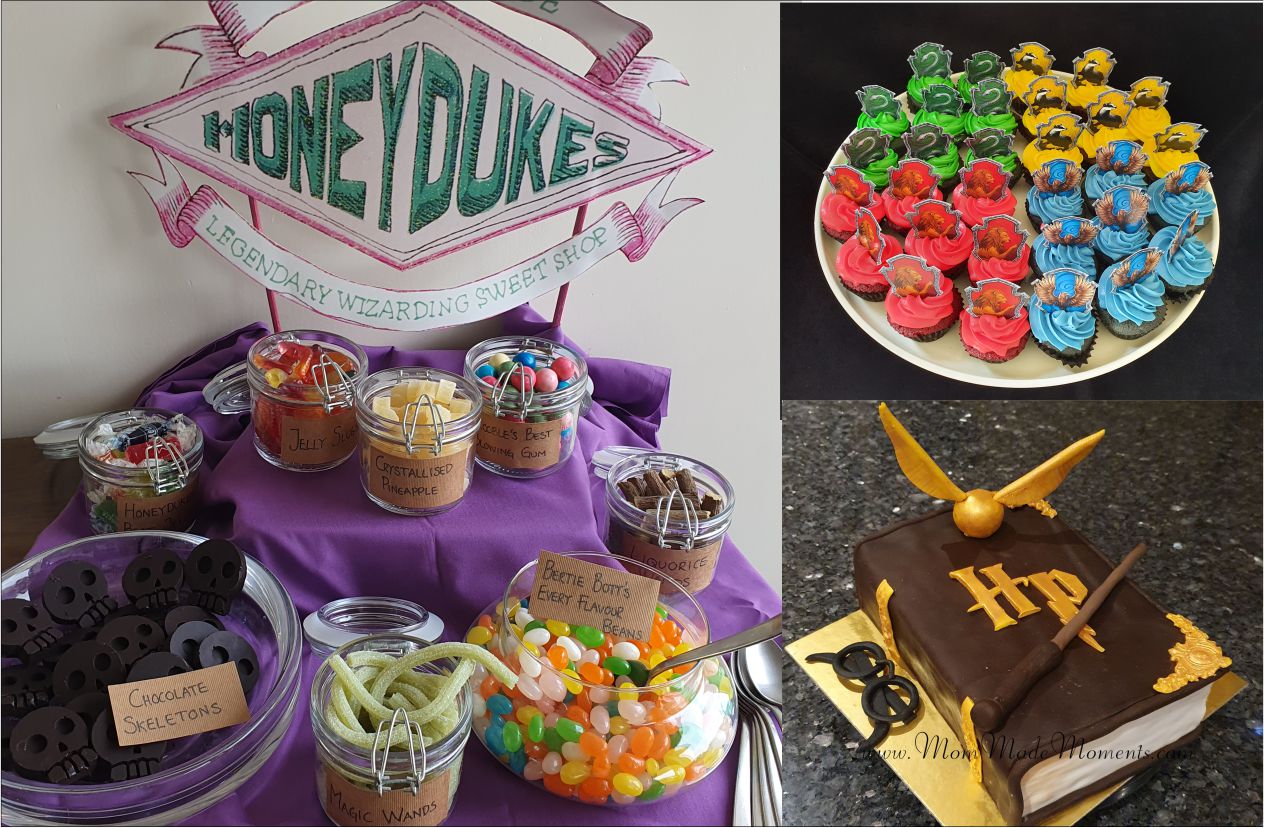 When you are planning your Harry Potter party, Harry Potter themed food is exactly what you need. I will show you how to make a quick Honeydukes Sweetshop, cookie glasses, golden snitch cake pops, themed drinks, healthy options and the perfect (yet easy) return present! Scroll down to see how to make it all and download all the templates to make it easy and fun.
We also made all our party decorations ourselves. Get inspired and make your own DIY Harry Potter party decorations like these DIY Sorting Hats by clicking this link: Harry Potter Party Decorations.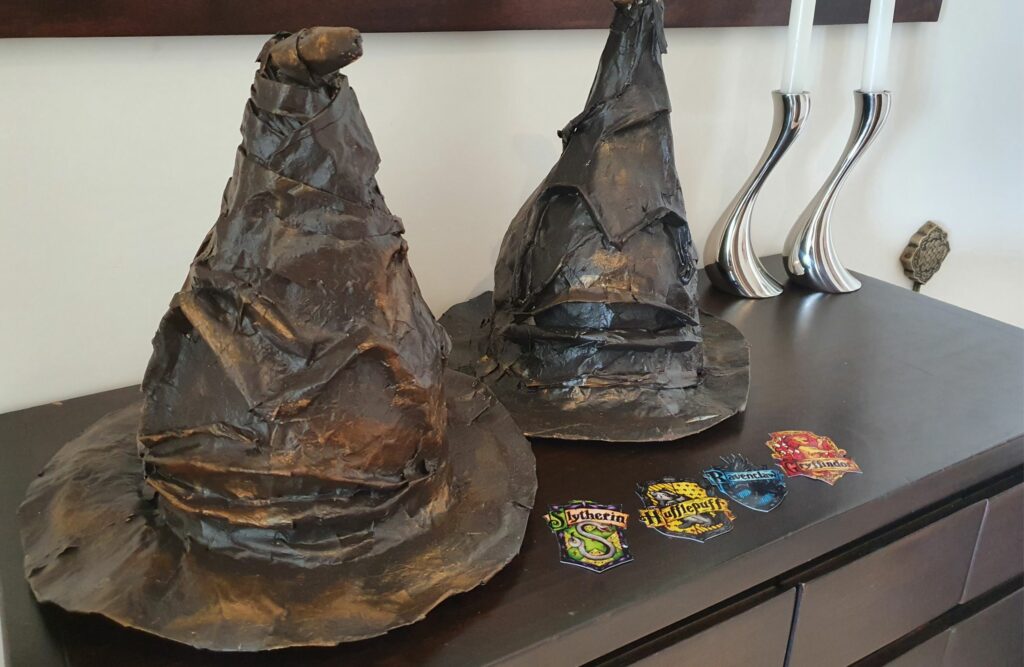 Just starting to plan your party? Why not make it easier and use my ready-to-download-and-print party invitation here: The Ultimate Harry Potter Invitation -delivered by owl of course! All the templates and stickers are free to download, of course.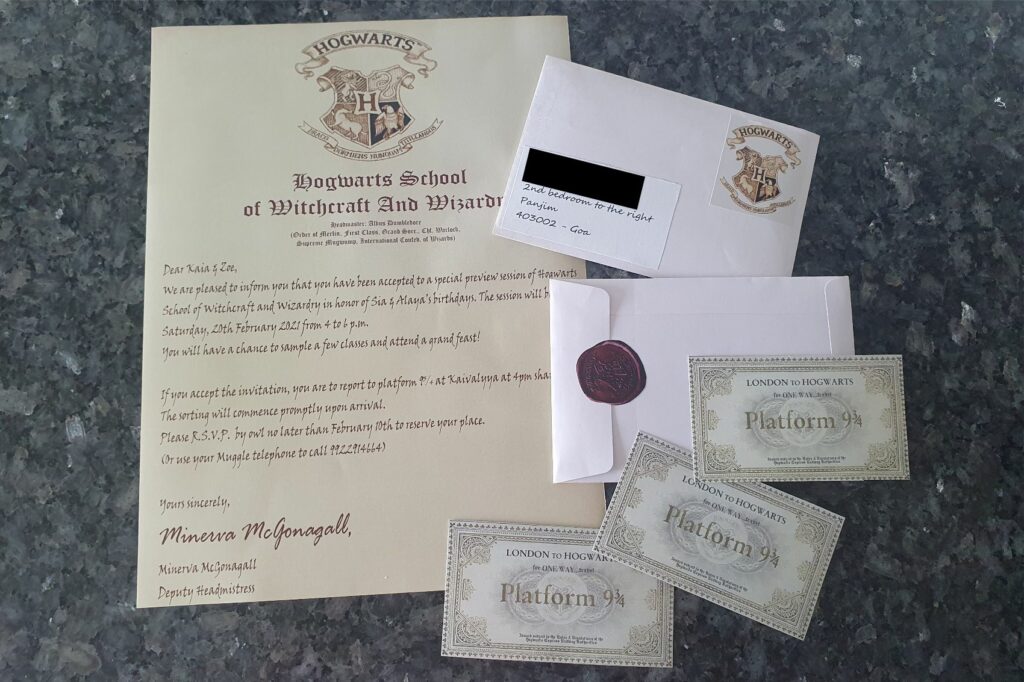 Back to the themed food… 😉 Here are some of my best ideas for DIY Harry Potter Themed Food with recipes, how-to's and free templates:
Watermelon Fruit Cauldron
As always I like to add some healthy food options for our parties too. It can be rainbow fruits (for a rainbow party), a watermelon turtle for a Moana party or in this case a watermelon fruit cauldron. It was the easiest watermelon art I have ever made and it took about 10 minutes to make it. You can also see my watermelon shark with step-by-step guide, which is perfect for any "pirate" or "under the sea" themed party. Or even the watermelon flower basket for our Snow White Party.
We also made Professor Sprout's vegetable garden with carrots and cucumbers cut into sticks (but I haven't added them here, because I somehow failed to take a picture)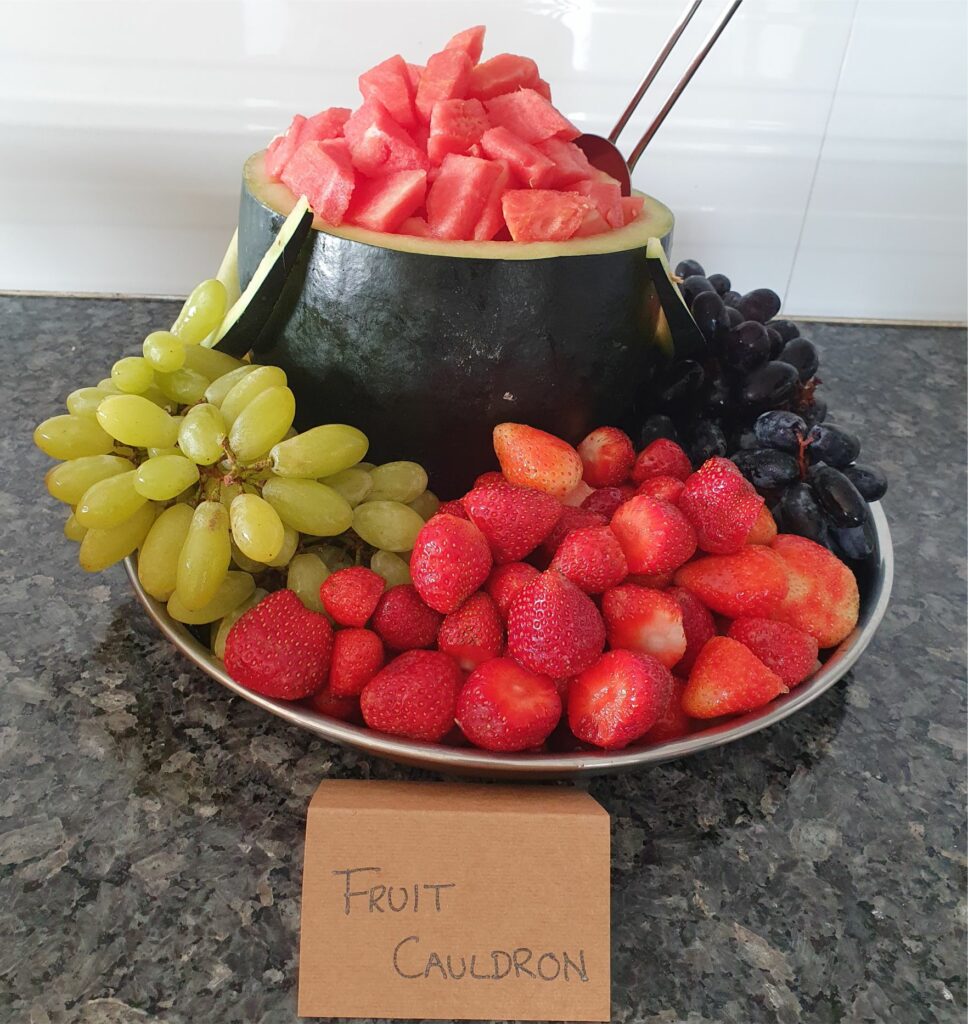 Honeydukes Sweet Shop
This was an absolute MUST for a Harry Potter Party. The legendary wizarding sweetshop: Honeydukes in Hogsmeade. There are tons of different sweets to choose from, so it is possible to adjust your own sweetshop selection according to the local availability and personal preferences. I have added the a list of all the sweets available at Honeydukes below here.
Our sweetshop was not as big as we had imagined at first, but as we only had a small party and I didn't want the kids to leave with tummy aches (!!!) it was necessary to scale it down a little. It IS, however, a really easy party option, as most of the sweets were bought and just poured into bowls. We made handwritten labels to add a little personal touch, as I am sure Ambrosius Flume and his wife do the same 😉
These are the sweets that Honeydukes has:
(Thank you to Honeydukes | Harry Potter Wiki | Fandom for the complete list)
We chose Bertie Bott's Every Flavour Beans (jelly beans from amazon.in), Crystallised Pineapple (also from amazon.in), Drooble's Best Chewing Gum and Jelly Slugs for which we used jelly worms. We also decided to make up our own labels, so we added some sour sticks as "Magic Wands" and some wrapped jelly as "Honeydukes Best Jelly".
I used actual liquorice roots for the Liquorice Wands. I had hoped for the pieces to be longer, but unfortunately I didn't manage to get the right ones. Kids can chew and suck on these (and it's supposed to be good for the health too) but obviously it won't be the favourite for the kids in this particular sweet shop. 😉 It was a fun addition though and the leftovers can be ground into powder which I use for my morning lime water.
We made the Chocolate Skeletons ourselves using an old pirate ice cube mould. Turn out it's perfect for chocolate too 🙂
Golden Snitch Cake Pops
Such a cute and wonderfully accurate themed party snack. See the detailed instructions on how to make these delicious cake pops and download the wings by clicking here.

Harry Potter Cookie Glasses
Another fun Harry Potter snack that's bound to surprise and excite your guests. Delicious gingerbread cookie glasses with edible glass! See how to make them and get to know all the mistakes I made (so you can avoid them) by clicking here.
Poly Juice Potion & Pumpkin Juice
The pictures are not amazing -I know, and I apologize- but the idea certainly is! Poly juice potion made with cranberry juice and soda, and orange juice disguised as pumpkin juice. Both were a hit at the party with both the adults and the kids.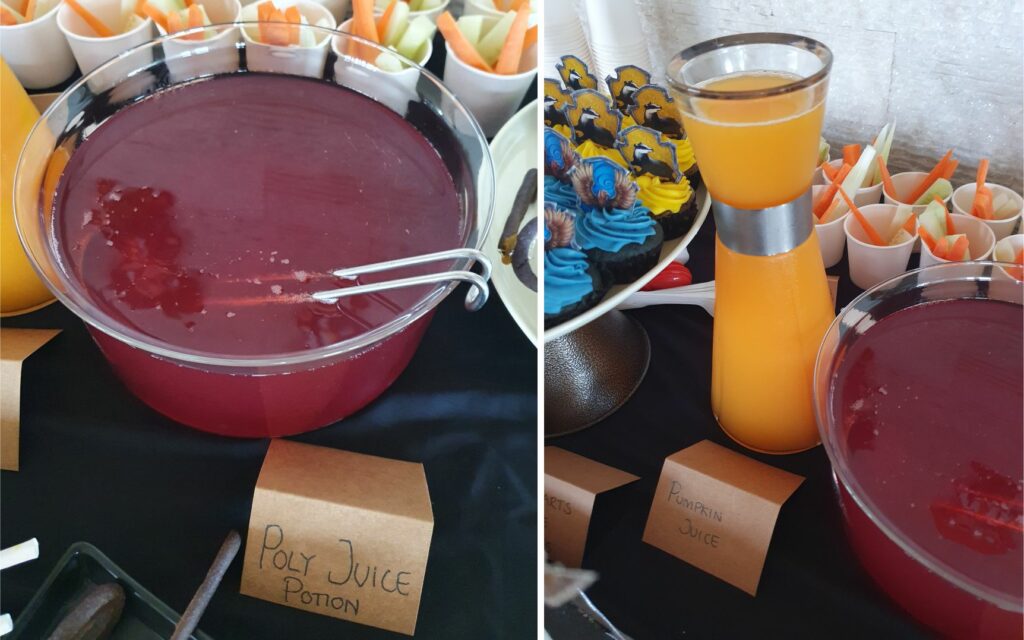 Hogwarts House Cupcakes
I made mini red velvet cupcakes in the house colours: red for Gryffindor, yellow for Hufflepuff, green for Slytherin and blue for Ravenclaw. I printed and cut the house emblems on 300gsm paper for each house. Download the house emblems here for free: Harry Potter Hogwarts House stickers FREE template.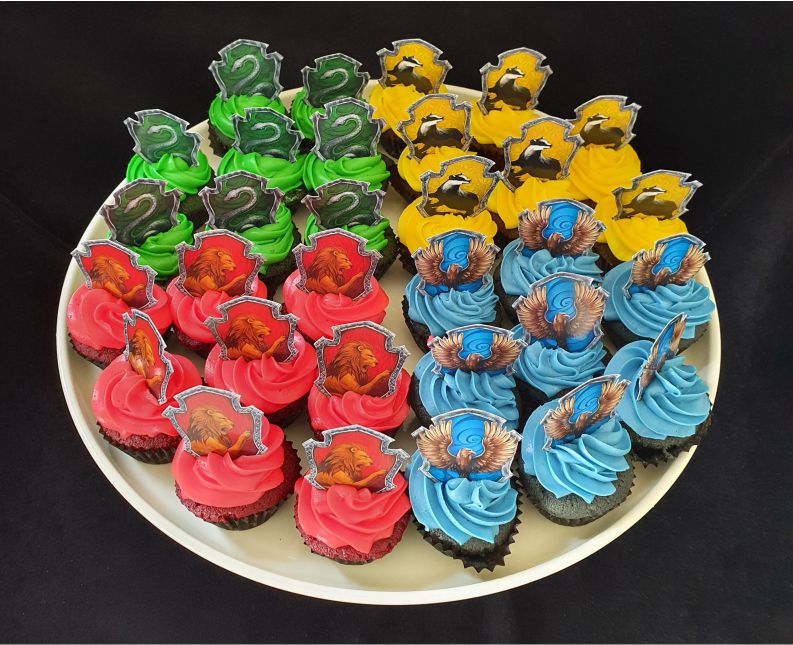 Harry Potter "Book" Cake
And of course a themed cake! My girls love everything Harry Potter, but their first love was for the books which we have read and re-read many many times in our house. Therefore the cake simply had to be an old fashioned book with a wand, Harry's glasses and a Golden Snitch on top.
I also take orders for cakes and cupcakes for your party or celebration. You can find me on Instagram @mommademoments_ or on Facebook for more details or click this link: Order Customized Cakes in Goa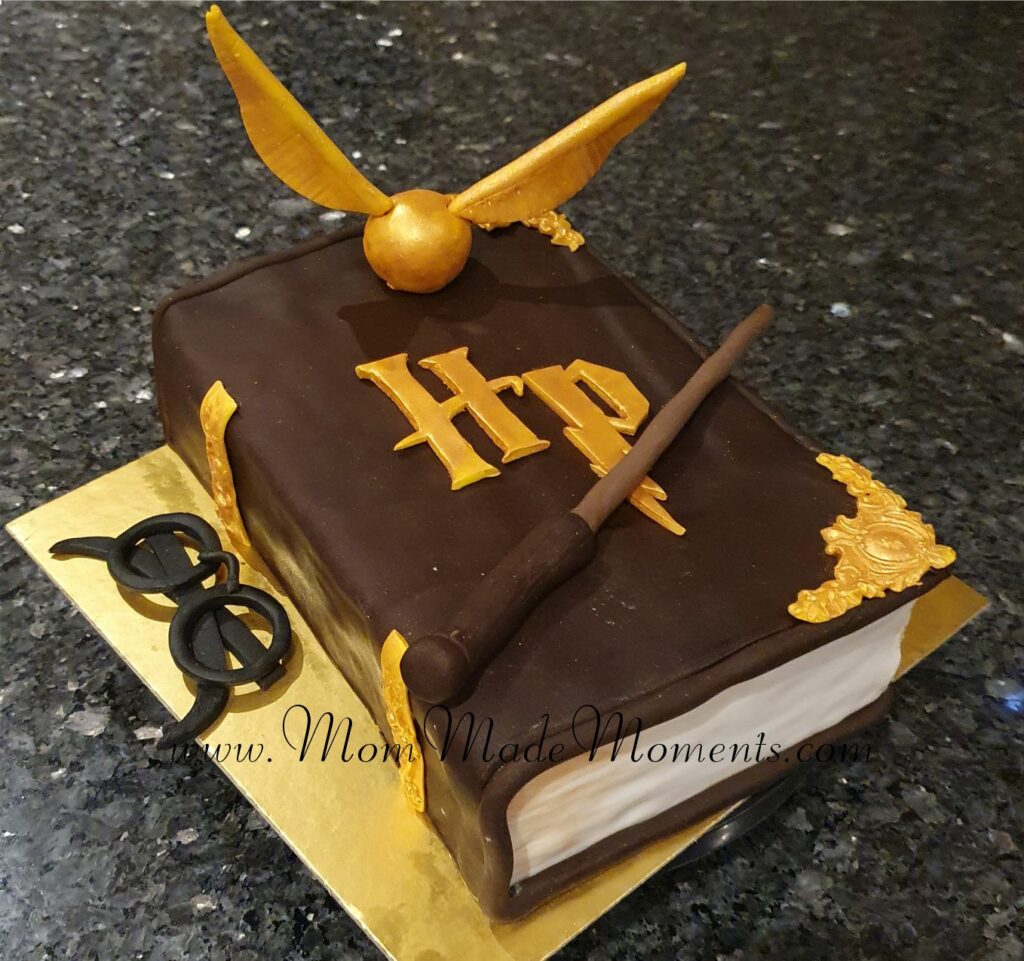 If you haven't planned the party games yet, make it easy and fun by downloading ready made templates here: Harry Potter Party Games. We made the party games as different lessons at Hogwarts, so whether you are a Gryffindor fan or just like treasure hunts, there is something for everyone here.
Harry Potter Return Present
Keeping in style with the theme, our guests received a small bag of Bertie Bott's Every Flavour Beans when the party was over. They also got to take the homemade Hogwarts School Ties home (click the link to see how to make your own)
Each bag had a label which read:
Thank you for coming to our party!
We got these for you at Honeydukes in Hogsmeade
(we used the Maurauders Map and sneaked into their basement.
But don't worry, we left the money for them -of course!)
Download your own label here: Bertie Botts Every Flavour beans return label.
This was all the Harry Potter themed food we prepared for our guests.
Hope you have a great party too. Please don't forget to tag me or send me the pictures on Instagram @mommademoments_ if you use any of my ideas. Thank you 🙂