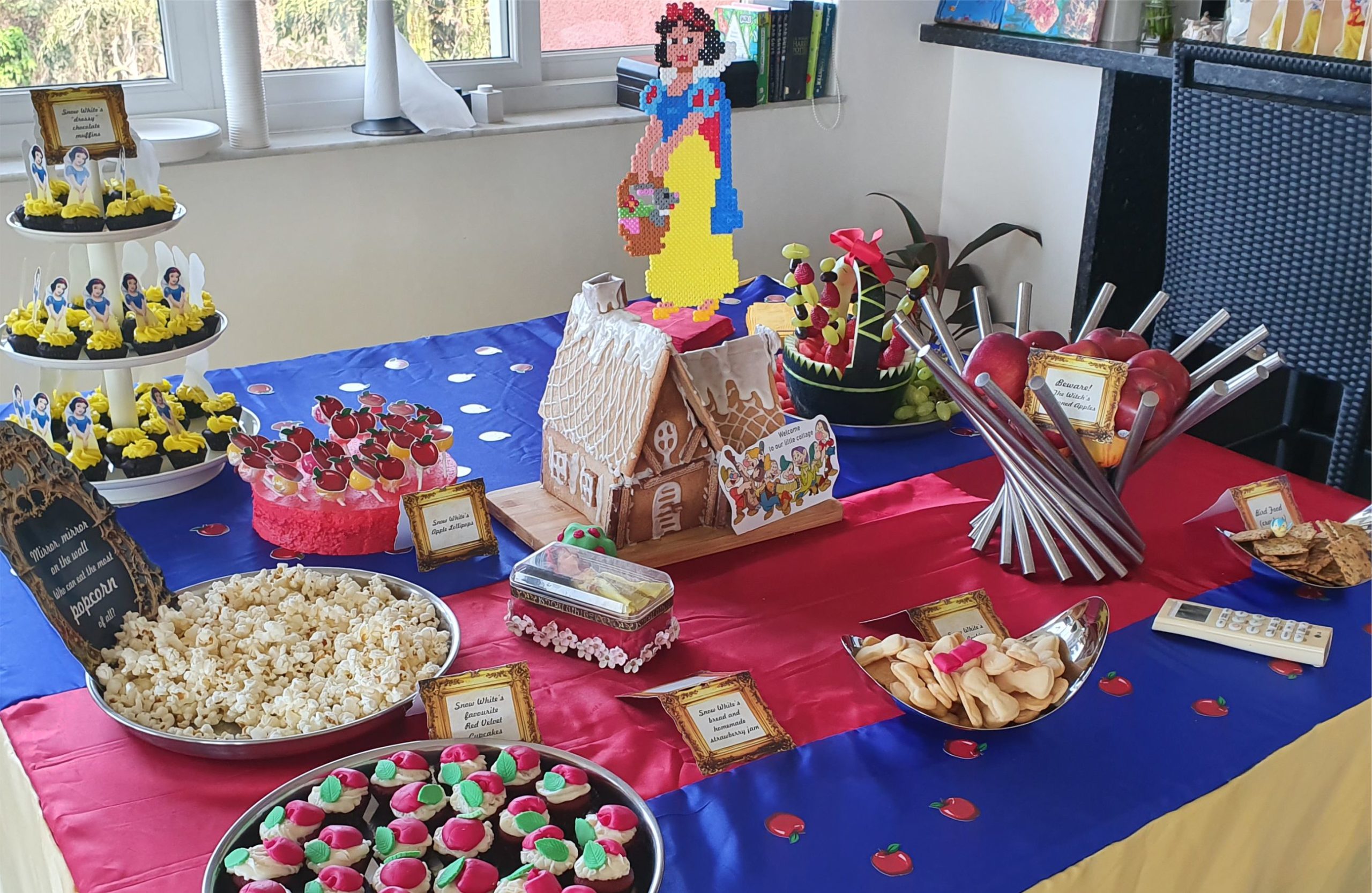 Snow White themed party food meant lots of apples, gilded mirrors, pretty bows and the colours red, yellow and blue. And -as always with birthday parties- I like to make my favourite recipes fit into the theme of the party. Check out my Moana party food ideas or Rainbow party ideas too.
We invited for afternoon tea, so all the food here is snacky rather than "real" food. I always try to serve a mix of both healthy and unhealthier party foods -and both are always very popular. But who wouldn't want fruit on a skewer or out of the mouth of a watermelon shark?
Scroll down to see all my Snow White food ideas including bow cookies, the dwarves house in the forest and lollipops disguised as apples.
See all our Snow White party games and decorations in this post here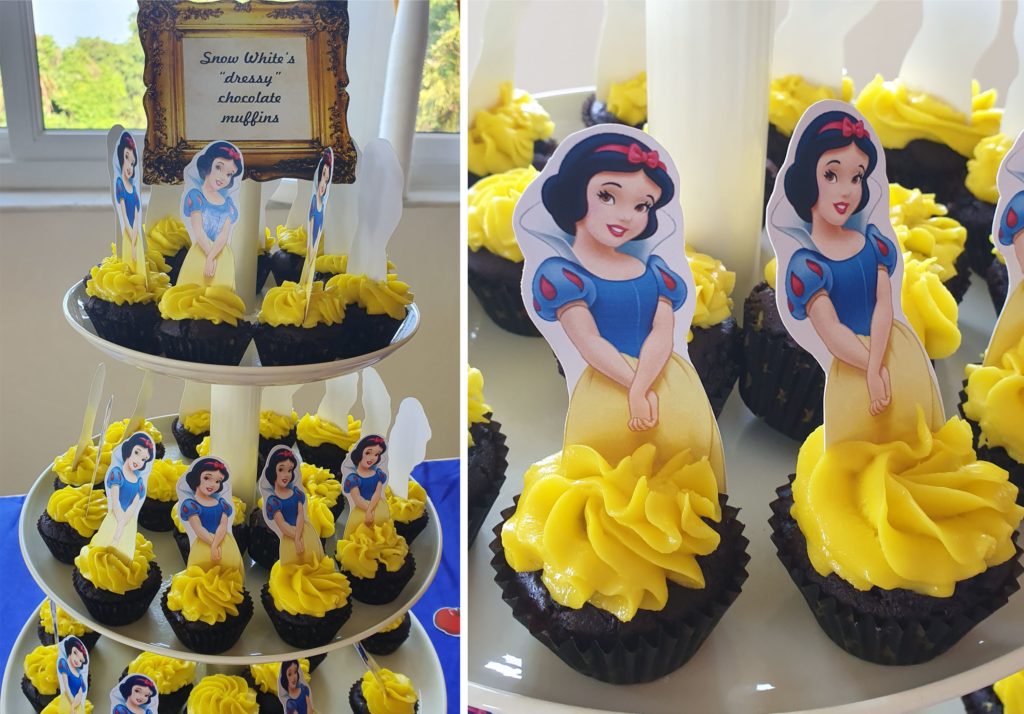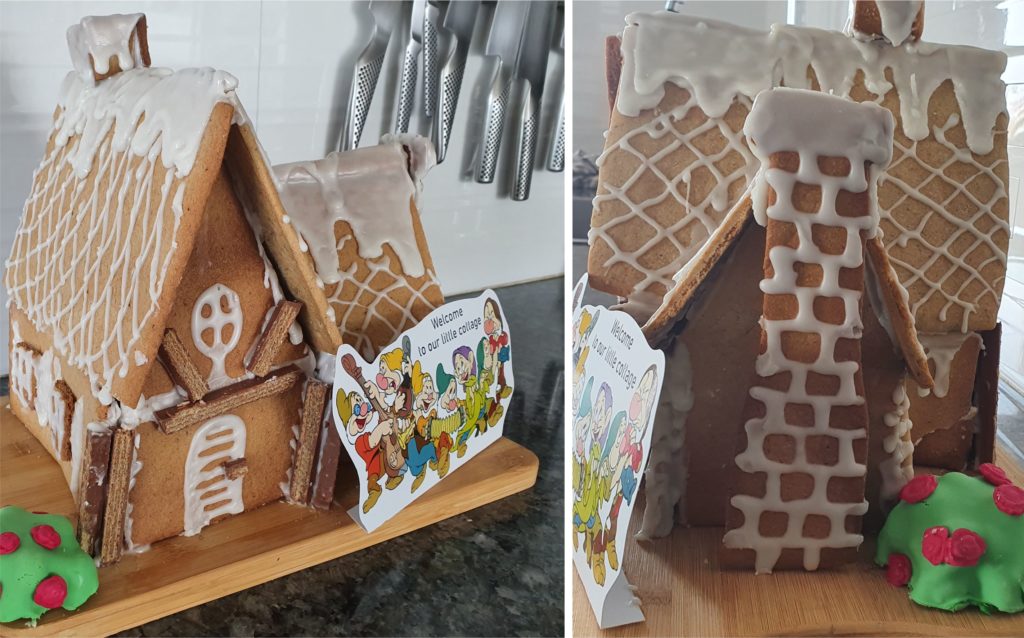 The Dwarves Gingerbread House
What would a Snow White party be without the seven dwarves? We made their house out of gingerbread and kit kat chocolates (for the wooden beams and columns)
This is my first gingerbread house EVER, so it's not the prettiest but the kids LOVED it so it was well worth the effort. We chose to add a small cut out of the dwarves rather than take the more difficult route and make them out of fondant.
See my recipe and tips for gingerbread houses here.
Bird Food
Crackers for the birds (and for the party guests 😊) I was lucky to find a little plastic Snow White bird in the Barbie box.
Snow White's Flower Basket
A watermelon cut out to resemble a basket with lots of juicy fruits on skewers and on the side.
Beware! The Witch's Poisoned Apples
And of course lots of actual apples! Red and dangerous looking.
Mirror, mirror on the wall. Who can eat the most popcorn of all?
Well that is of course the question that many of the kids tried to answer
Red Velvet Cupcakes
With a fondant apple and leaf on top. The red fondant I had bought was nearly pink so not exactly as I wanted them to look, but we went ahead with it anyways and am sure I was the only one who really notices (or cared)
Snow White's bread and homemade strawberry jam
Homemade oatmeal bread, fresh from the oven with butter and homemade strawberry jam. To fit in with the Snow White theme 🙂
Snow White Cake
Homemade Snow White cake with a little fondant bow at the bottom to match the ones on the bow cookies. We used an actual apple for the candle to add to the overall theme of the party.
Lollipop Poisoned Apples
I made a thermocol apple as the base and stuck cut outs of apples onto the lollipops. The finished effect was great. The second picture is to show you how they were stuck on. Download your own Red Apples Template here.
See more party ideas here
Snow White Themed Party Food Ideas