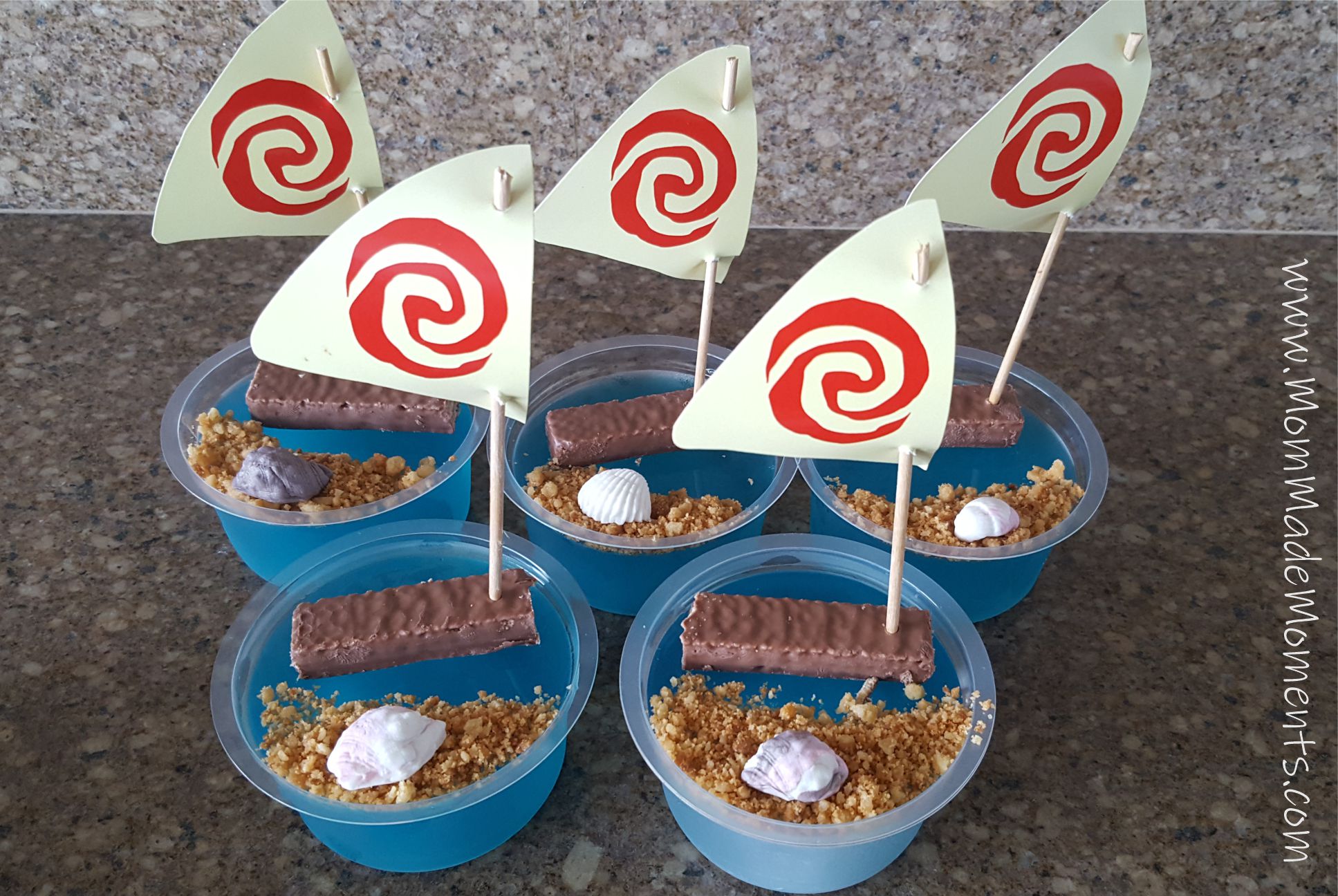 We always start about a month in advance and do a little whenever homework, play dates and extra-curricular activities will allow. We work on the Moana pieces instead of doing other craft projects. We especially loved making the Tamatoa (the crab) DIY chocolate cookie plate.
Hope you find inspiration for a do-it-yourself Moana party here. See my Moana activity ideas and Moana decoration and costume ideas too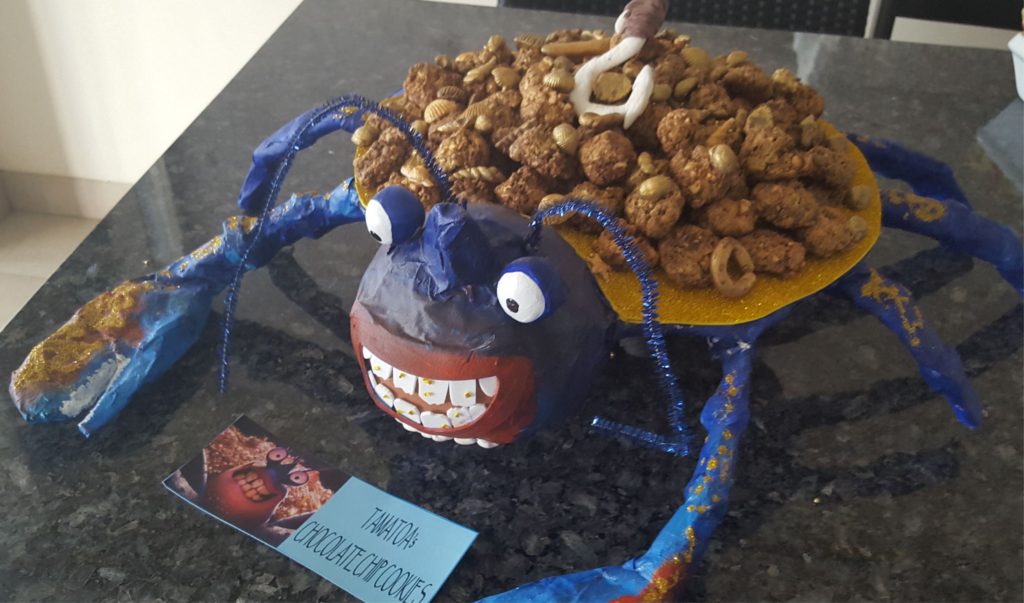 Tamatoa's Chocolate Chip Cookies.
My daughter really wanted chocolate chip cookies so we decided to make this Tamatoa crab out of paper mâché and add the cookies and gold seashells as the jewel encrusted shell -with a fondant hook on top of course. We coloured the chocolate cookies and fondant shell pieces with editable gold dust. See how to make Tamatoa from scratch here.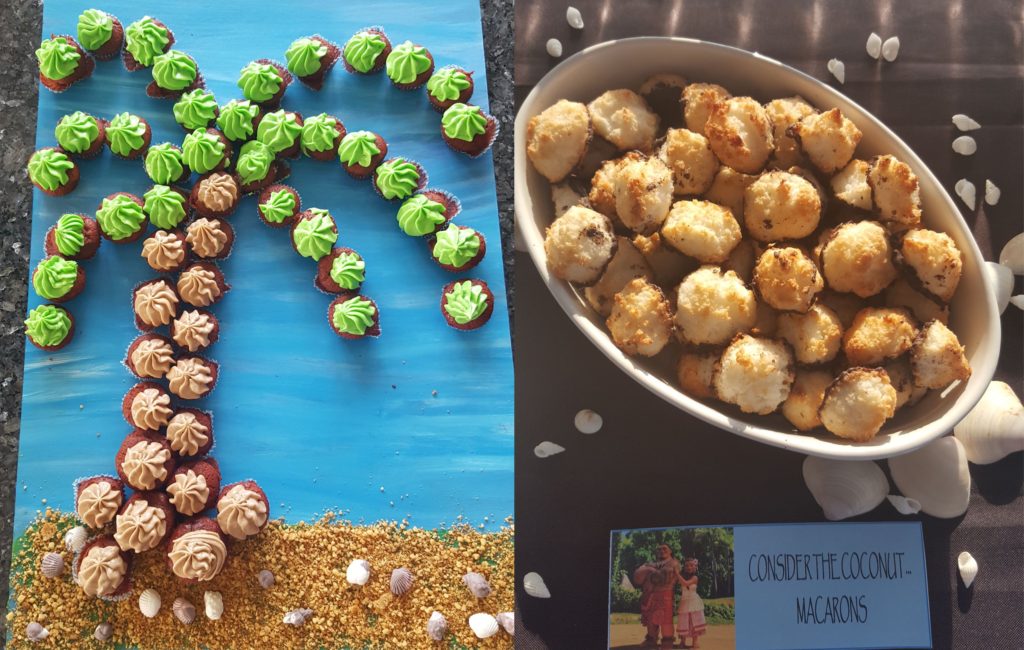 Mini Red Velvet Cupcake Palm Tree
Mini red velvet cupcakes with brown and green icing made a beautiful coconot tree. With fondant shells and coconut cake sand. They looked awesome on the cardboard piece painted blue like the sky
"Consider the Coconut" Macarons
Because of the song and the significance of coconuts on Moana's island we decided to have a little coconut dish. Easy to make and super tasty.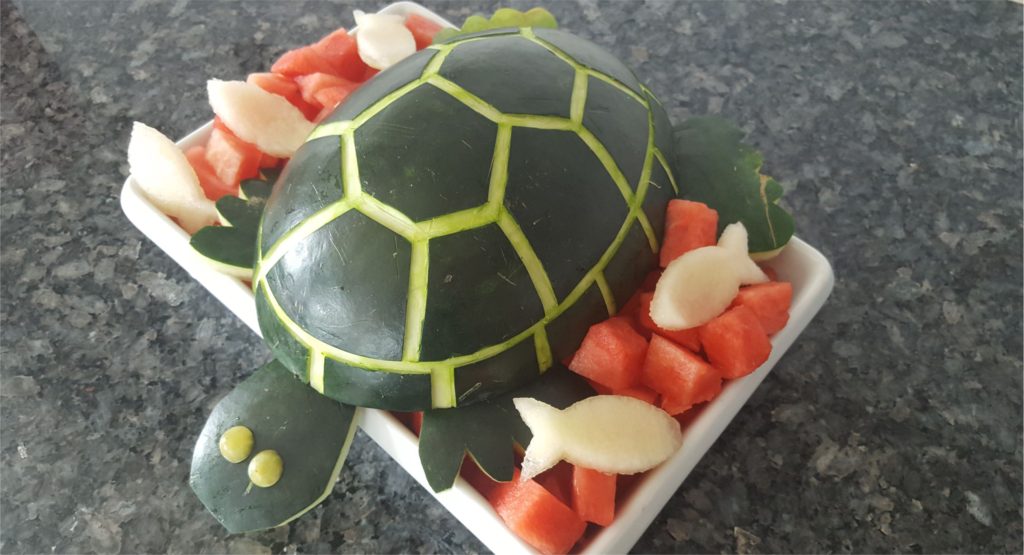 Watermelon Turtle
For no reason really -just because it was cute and easy to make. I put the watermelon pieces under the turtle and made a few fish from a honey melon (because of the contrast colour) with a cookie cutter.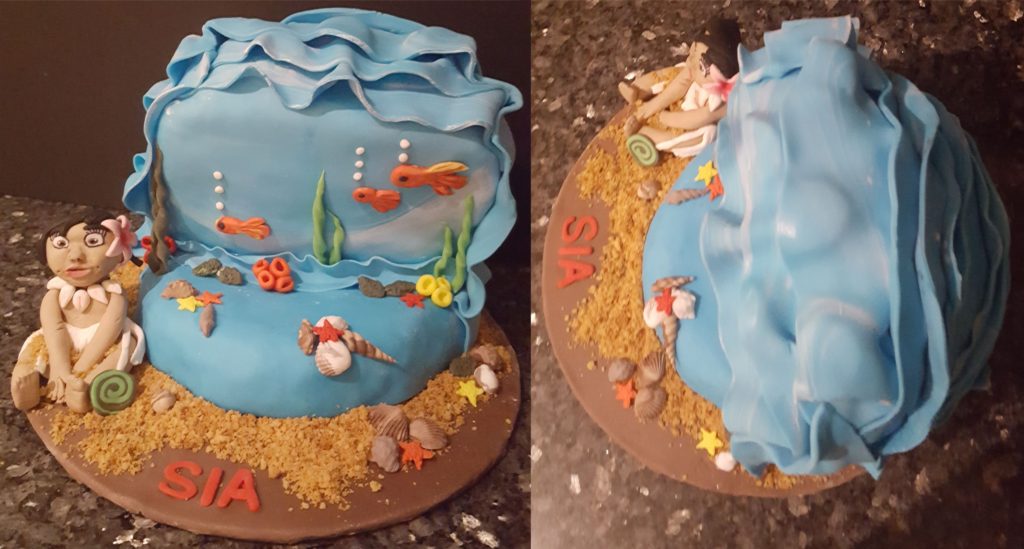 Moana Themed Cake
First time for everything and this is the first time I tried to make a person out of fondant. Moana as a girl didn't turn out exactly as I wanted but my daughter was thrilled and for an amateur baker like myself, I couldn't really be displeased. I mixed the blue fondant with a bit of white to make it marbleized. The "wave" was a rich chocolate cake and the bottom a coconut cake to fit in with the theme.
Blue jelly with small chocolate bar boats
As you can't buy blue jelly here in Goa, I made it myself from Mala's blue curacao. Simply soak 1 sachet of gelatine in a little cold water first and then melt it in a bowl over boiling water. When melted mix with the blue curacao (premixed 100ml blue curacao and 300ml water) Sets in a few hours in the fridge. Click here for a step-by-step guide.
The sand is chopped coconut cake (from the crust that I cut off from the cake) and a fondant seashell as an added touch. Print your own flags for free here Flags for Moana Jelly Boats
Heart of TeFiti Cinnamon Rolls
They didn't end up looking as great as expected, but they tasted as they should. I added a little green colour to the icing as well as the dough. See the yummy recipe for cinnamon buns here
Kakamora's Fruit Spears
In an effort to keep things healthy (or healthier) we added the fruit spears with watermelon "fish" on the tips
Moana water bottles
As with all our birthday parties we have small 200ml water bottles for all the thirsty kids. Get your water bottle stickers here.
Hope you found some inspiration for your own Moana Party. Please let me know how it went in the comment section below
Moana Party -Moana Food Ideas