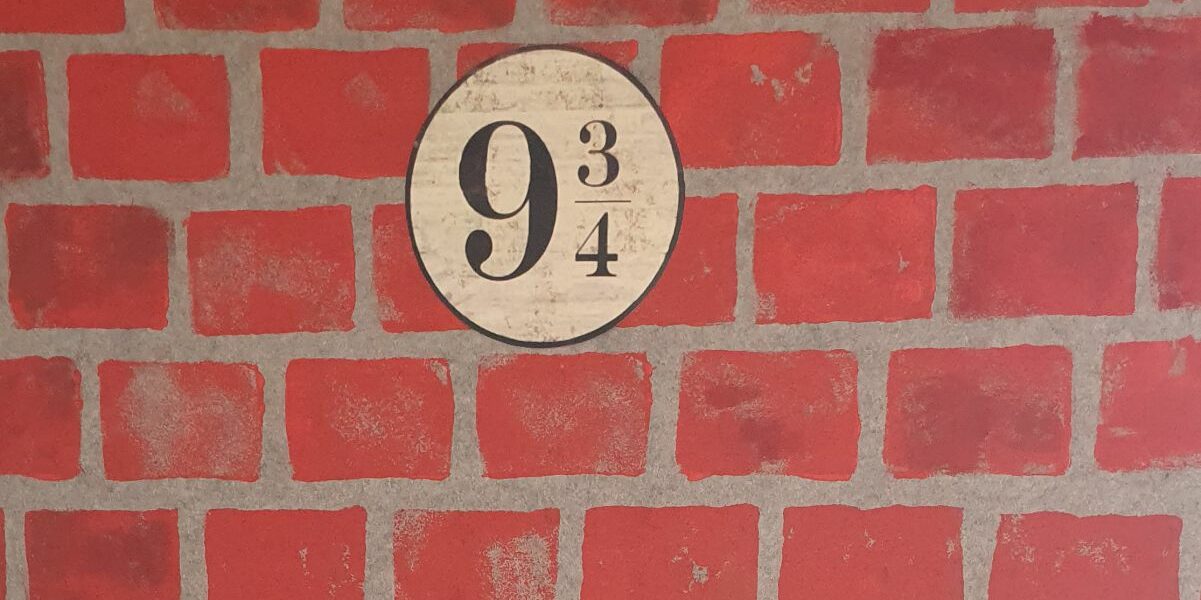 There are many ways to make simple -yet amazing- diy Harry Potter Party Decorations -without breaking the budget! My 3 daughters and I made all the decorations seen in this post ourselves and we had -as always- lots of fun in the process. Harry Potter is a fantastic theme for a party as you have 7 (or 8 if you include the last book) great books filled with inspiration to let your creativity run wild.
Here are some of our ideas -with lots of free templates to download of course 😉
Harry Potter Party Decorations
DIY Platform 9 3/4 brick wall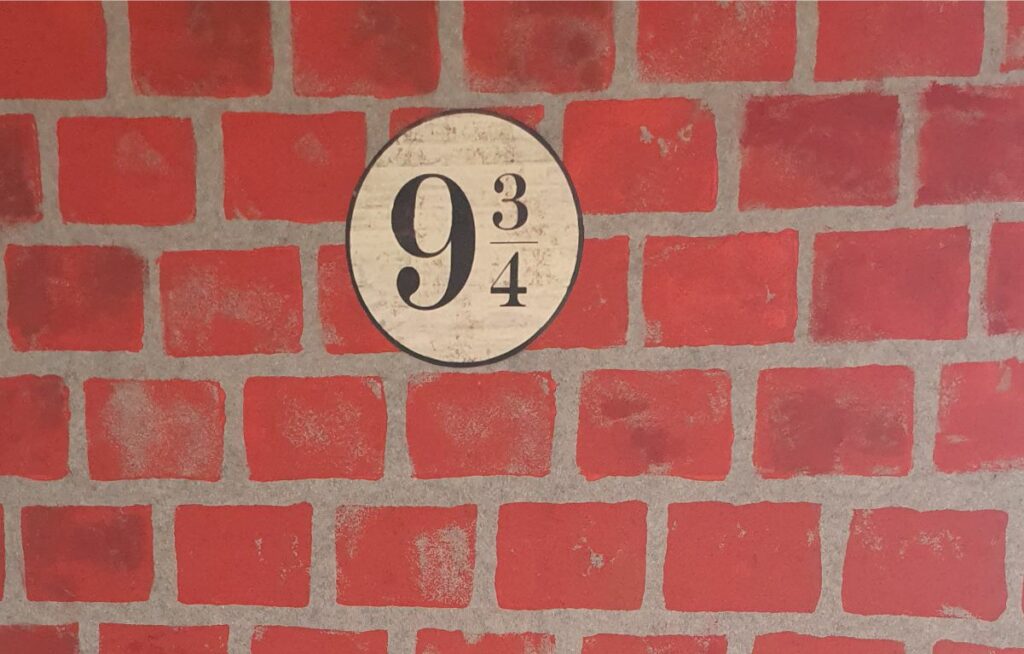 This felt/cloth brick wall is super easy to make and it makes a beautiful backdrop for pictures. You can add a wizard's cape, a wand and a Hogwarts tie and you have a DIY Harry Potter themed photo booth. Click on the "Hogwarts tie" link to see how to make your own Harry Potter felt tie and also to view more pictures of this wall.
You can either hang this cloth on the wall with pins or staples, or you can make a slit down the middle and hang it in front of the open front door (or any doorway). This way, your guests have to enter through the barrier at King's Cross Station to reach platform 9 3/4 and thereby enter the magic world that lies beyond. I love this option, but unfortunately we had our party outdoors, so there was no doorway to come through. It was perfect on the wall too, so no complaints there.
You will need these materials to make this diy "wall":
We made this "wall" from a piece of grey felt from Itsy Bitsy. You can use any light-coloured cloth for this, but a thicker more sturdy cloth will be easier to put up and will also resemble a wall more as it won't flap around if there is any wind.
Any red paint will work for this. We went for the cheapest option and got paint samples from Asian Paints. The paint samples are cheaper than the paint tubes from the art shop and the quantity is much more. You will need about 500-600ml paint for a "wall" like ours measuring 2 meters by 120 centimeters. I had not expected the sponge or the cloth to "suck" so much paint, so I would get a 1 liter paint can, if I ever had to do it again.
Rectangle sponge + paper plate
We used a rectangle brick sized sponge like this. You can get them in the art and craft store, but usually the bath sponges from the supermarket are the same size and thickness -and they are generally much cheaper.
Put plenty of newspapers underneath the cloth as the paint will sometimes go through and it's a messy job to clean an entire "wall" off the floor afterwards.
How to make the wall:
Lay out the felt on top of the newspapers. Add some of the paint onto the paper plate. Dip one side of the sponge into the paint, wipe off excess paint on the side of the plate and press it down onto the felt in a brick pattern. Repeat until everything is done. Let the felt dry fully for 12 hours before folding it and storing it away. I liked the slightly different way each brick turned out but if you want each brick to be perfect, then make sure you add equal amounts of red paint for each dip.
Download the Platform 9 3/4 sign here to print and glue on: Harry Potter Party Decorations Platform 9 3/4 sign
Moaning Myrtle in the toilet
Moaning Myrtle inside the toilet seat. This idea is so easy it's almost laughable, but it really does add something a bit extra to the party decorations. Some party guests will get a shock when they open the toilet seat for sure, while others will enjoy that little extra touch.
Download Moaning Myrtle here (it doesn't get much easier that that!): Harry Potter Party Decorations Moaning Myrtle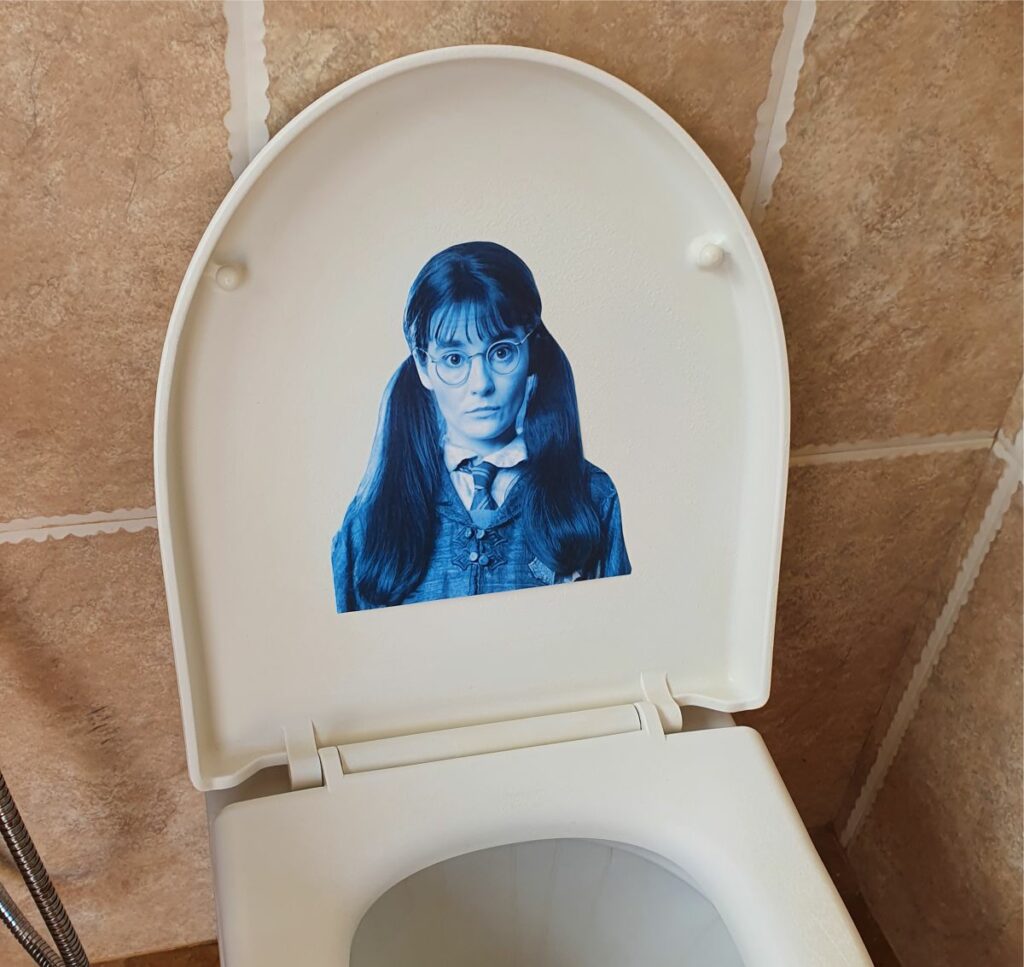 Third Floor Warning Sign
The third floor corridor is out of bounds to everyone who does not wish to die a very painful death.
Albus Dumbledore
So easy and perfect if you have stairs in the house -especially if you don't want the kids to go upstairs and wreck the bedrooms too! As it was, our treasure hunts (yes, hunts! more about that in my Harry Potter Activities and Games post coming later) would take the kids up the stairs, so I didn't want the sign to hang there. But a little creative freedom is allowed, and the sign still added that little something extra for this staircase… with about 5 minutes of work on the computer. 🙂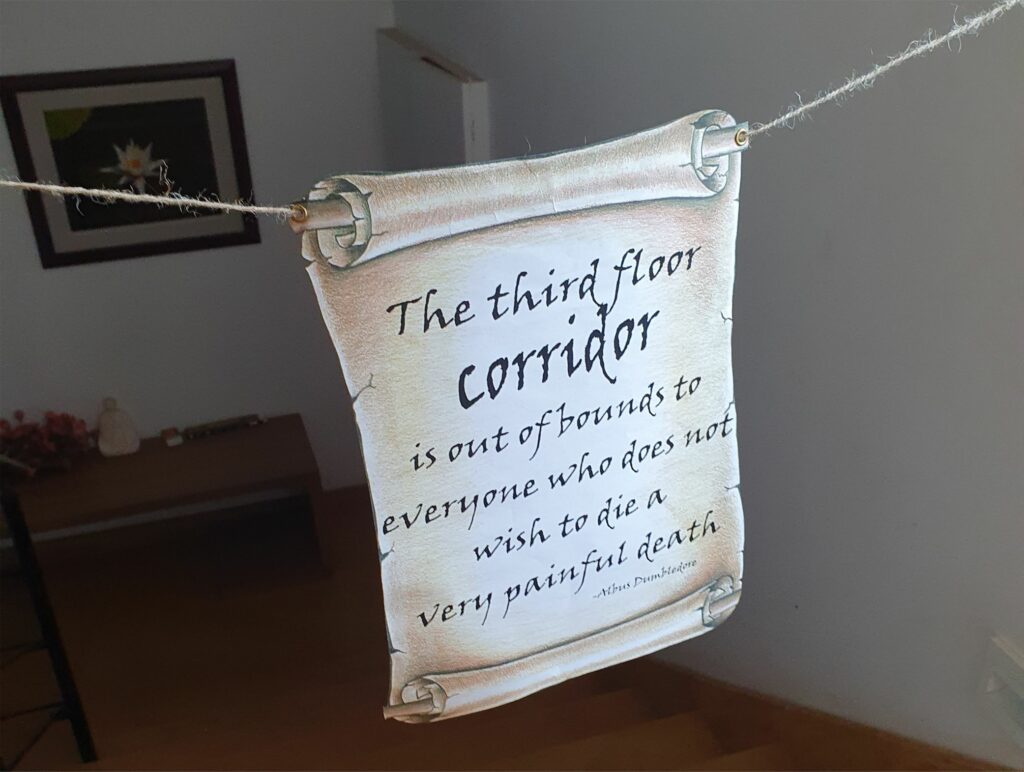 Hogwarts House Point Hour Glasses
Make House Point Hour Glasses to count the house points in the games. They are useful and double as decoration at the same time. They are simple to make but do require quite a few jars and coloured (gem)stones. We used garden decoration stones from amazon.in as they were cheap and big. I bought the cheapest ones available at about Rs99 for a bag (see link) and the quality and quantity was surprisingly good. You can also use coloured marbles, gems or just small coloured paper balls.
These gemstones represent each of the Hogwarts houses:
Gryffindor: Rubies
Ravenclaw: Sapphires
Slytherin: Emeralds
Hufflepuff: Diamonds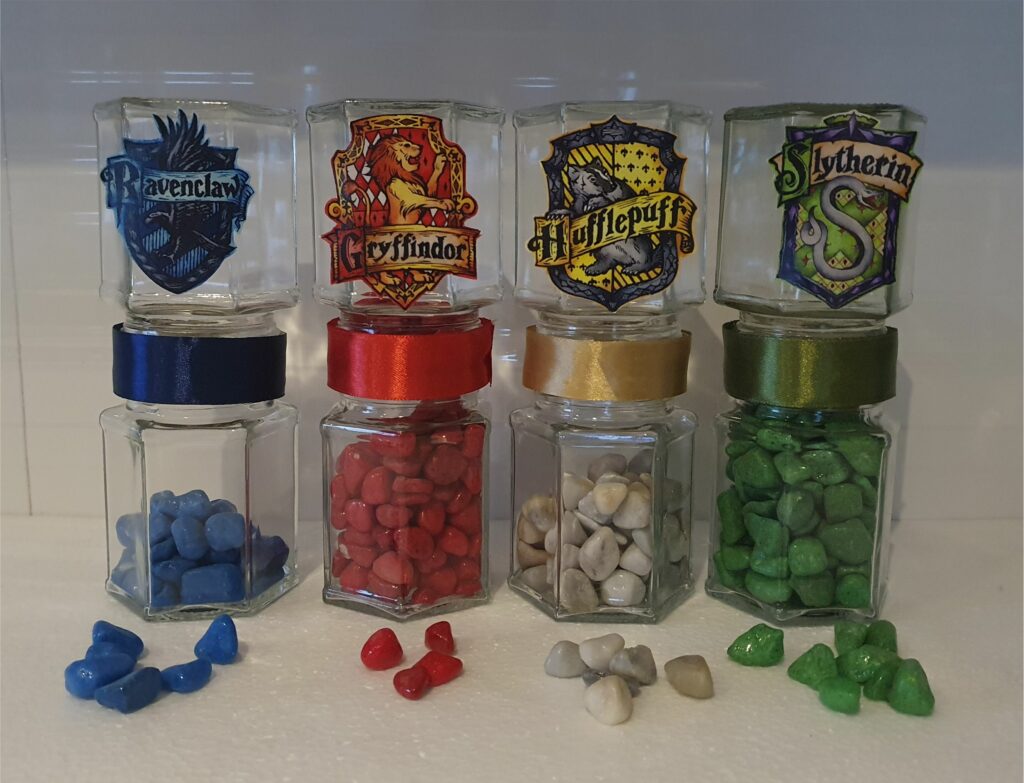 Make the Hogwarts Hour Glasses
Four upside-down mason jars glued on top of another four mason jars. Finish them off with a print out of each of the Hogwarts House Emblems and add a coloured ribbon to hide the lids. Each side of the jars can be twisted and opened to fill the (gem)stones inside. Not an actual hour glass, I know, but using what we already had in the house, this was a solution that worked for us. Maybe it will for you too.
The Hogwarts Emblem is made from perler beads. See the full post on how to make it here.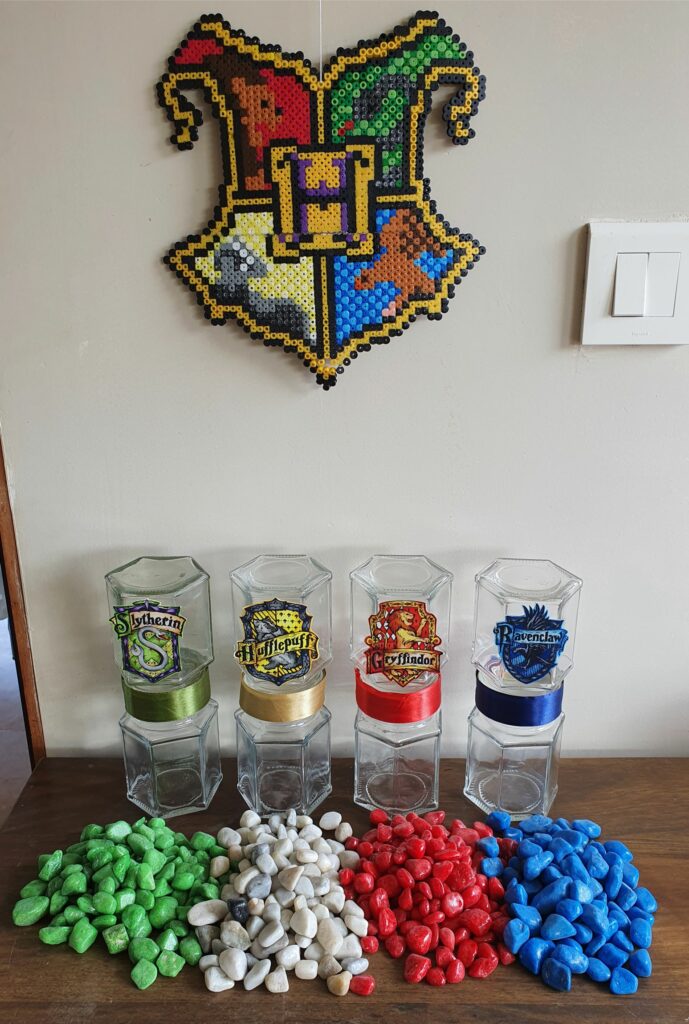 Harry, Ron and Hermione out of perler beads
Make the three best friends out of perler beads as a fun addition to the decorations. See the full post on how to make them here. This post also shows how to make a perler beads time-turner, Hedwig and a golden snitch.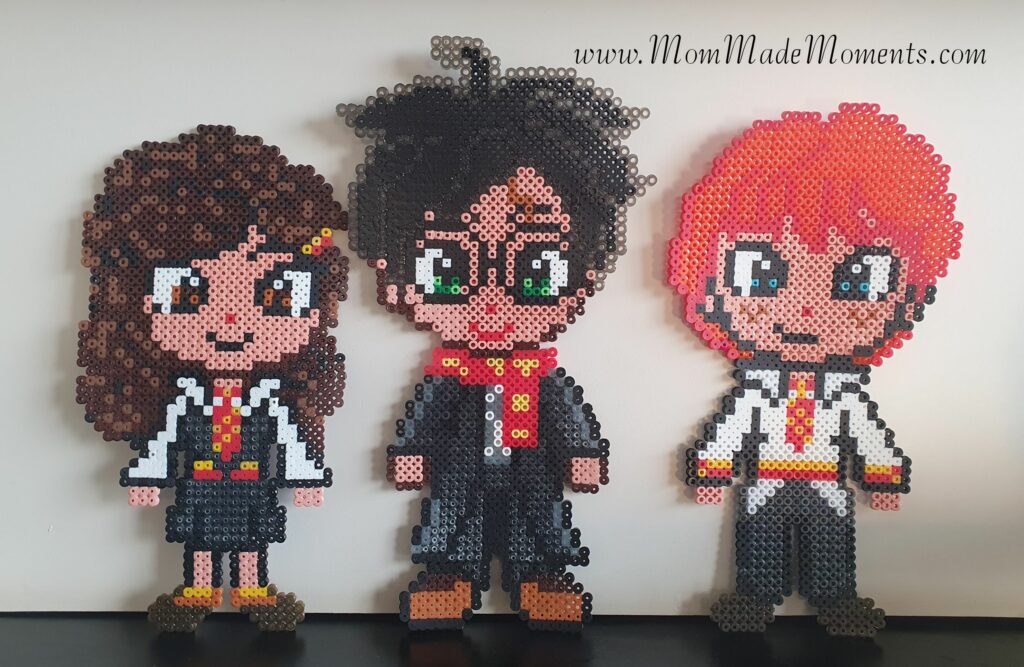 More Harry Potter Party Decorations
The chamber of secrets has been opened. Enemies of the heir. BEWARE
No Harry Potter party is complete without a red scary message on the wall, right? In our case, we used the mirror because it was easier to wash off again. I wouldn't recommend writing anything on the wall with red paint. Ever. Luckily both acrylic and poster paint wash off any smooth surface quite easily, so use a window, glass door or mirror for your message. If you want to put the notice on the wall, use a cloth, paper or flex sheet to write the message on.
Sorry, this picture is not the best. It's never easy to take a photo of a mirror without capturing me in it too 😉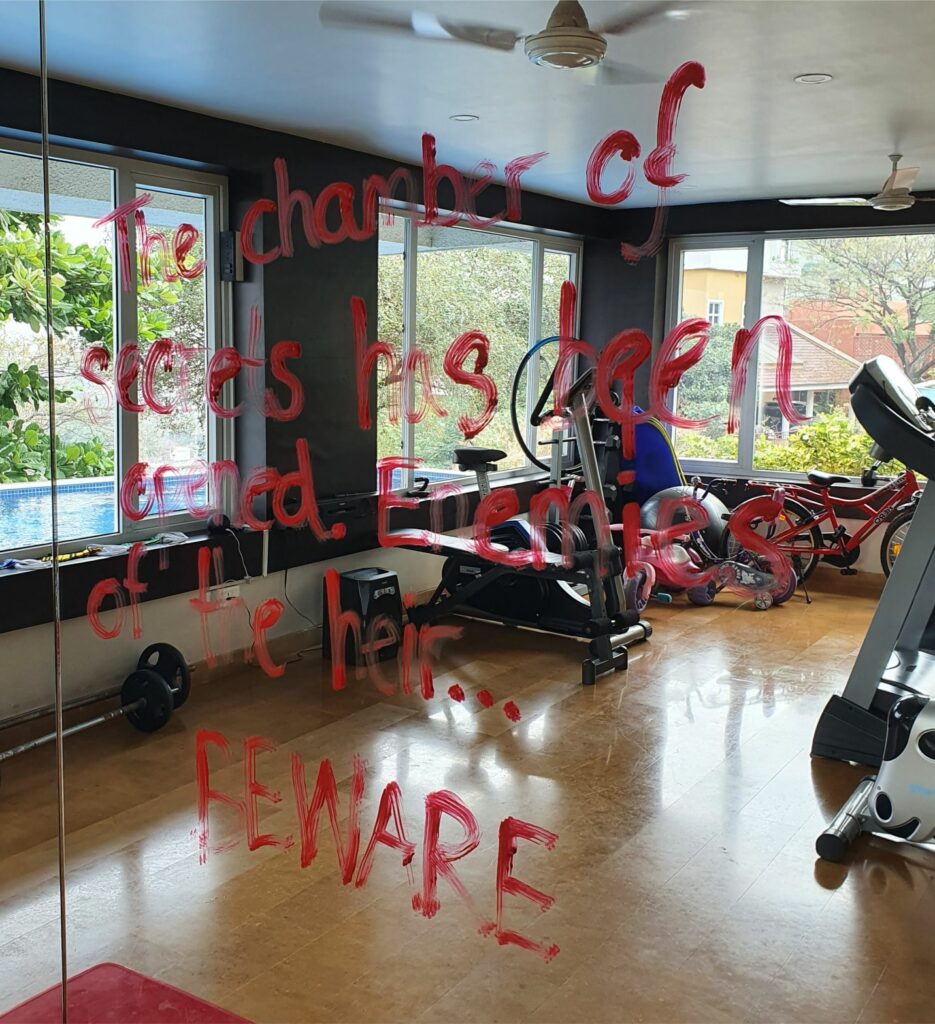 Slimy Potions
The kids and I had fun one afternoon making colorful slimes. I had printed some labels with the names of some of the potions mentioned in the books like skele-gro, draught of living death, felix felicis, draught of peace, veritaserum and poly juice. I then asked the kids to make their own interpretations of these potions.
We also had a potion class at the party, where all the kids got to make their own potions… with a magic twist! Read more about that and get the recipe for homemade slime in my Harry Potter Party Games & Activities post. Download the potions labels here for FREE: Harry Potter Party Potions Labels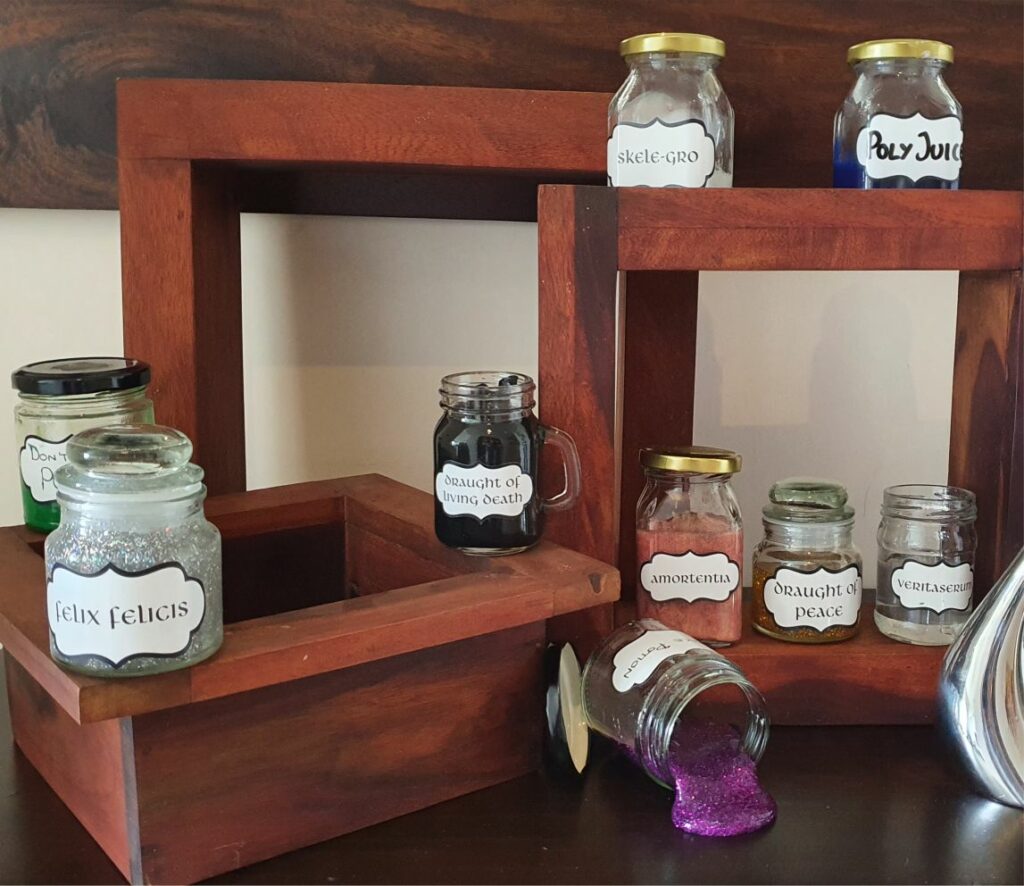 The Sorting Hat
Few things scream Harry Potter as much as the clever Sorting Hat. Use it to sort the kids into their houses and later on place it neatly on a shelf or table for display. We made these sorting hats out of papier-mâché. See how do make your own here.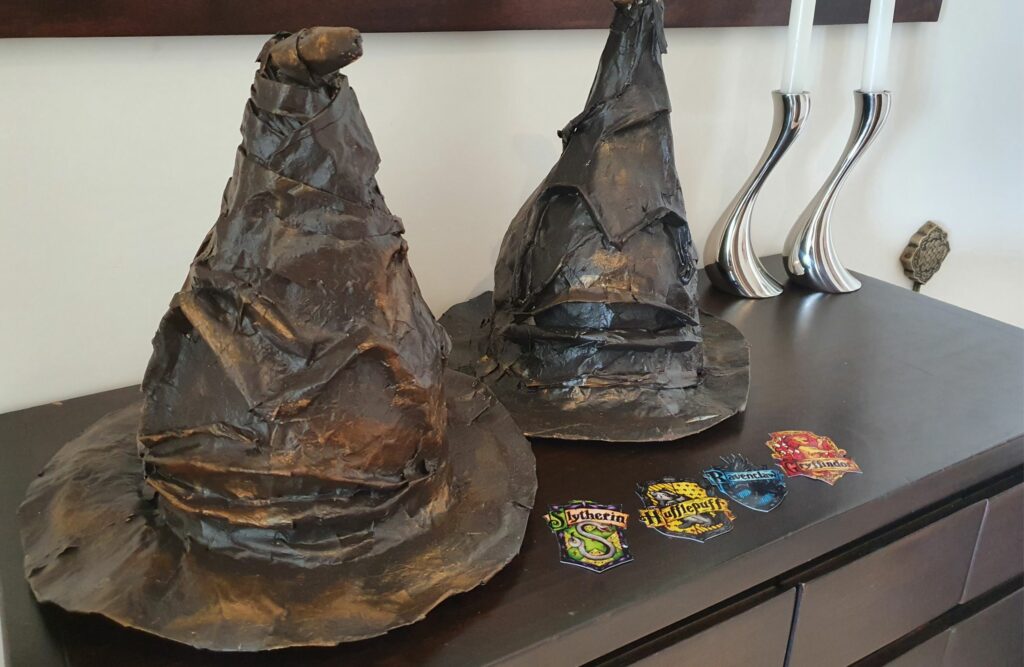 The themed food and Harry Potter games will be a part of the decorations too of course.
See all of our themed Harry Potter Party Food and Harry Potter Party Games coming soon. There are lots of inspiration and -of course- lots of free templates to download too 🙂
Hope you got inspired by this post. Please let me know if you have any great ideas of your own in the comments below. 🙂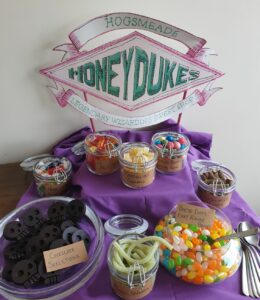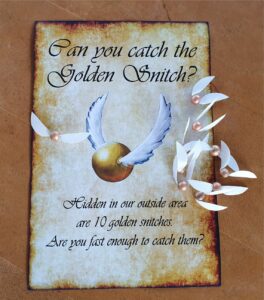 Harry Potter Party Decorations