Get lots of Harry Potter perler beads designs right here! Scroll down for the Hogwarts Seal, Harry Potter and his two friends, Hermione Granger and Ron Weasley, the Snitch, Hedwig and a 3D Time-Turner. All made out of perler beads!
A Harry Potter birthday party equals Harry Potter perler beads, of course!
We love being creative with perler beads in our house. And when the upcoming birthday party is Harry Potter themed, then it's natural that all the artwork become Harry Potter themed too in the month leading up to the party. It's a win-win situation as we end up with lots of themed decorations. These handmade decorations add something special to the celebrations. And they are beautiful on the walls in the kids' rooms afterwards too.
I grew up making perler beads ("Perler" literally means "beads", so these small plastic beads have literally been nicknamed beads beads. Needless to say, I find it a bit weird to call them that 🙂 ) Bead designs have come a long way since my childhood though (probably thanks to the internet) and they are not just for kids anymore either. It's very destressing for kids and adults alike to make these designs, just like colouring, painting or baking can be.
My best tips before making Harry Potter Perler Beads:
Buy the perler beads whenever you see them at a lower price. They are not always easy to get in India without paying a fortune for them. I buy them mainly from amazon.in whenever I find some on sale or at a lower price. ShoppersStop also stocks them sometimes on their website.
Buying individual colours are easier to work with. But the mixed box from Ikea or a mixed box from the Perler brand are often cheaper and will give you lots of colours to start with.
Buy a few peg boards. The square ones are great for bigger designs. It's better to buy square transparent ones from the same brand, so they fit together afterwards. We have some from different brands which makes it harder to iron them together afterwards (not impossible of course -just harder)
Try to use the same brand of beads in one design. Different brands melt at different temperatures. So if you have used a mix, then it's tricky not to iron some completely flat while the others haven't started melting yet.
Cover the finished design with parchment paper (baking paper) and iron on low to medium heat. Let the beads cool down a little before removing them from the peg board.
Iron them on the reverse side too to make them stronger.
Let the design cool under a heavy book or chopping board to make it straight. Beads tend to bend a little while cooling if left out in the open.
Perler Beads Time-Turner
We started off by making this 3D Time-Turner. See how to make it here. It was really fun to make and it didn't take too much time (about 30min) or too many beads either. If you don't have gold coloured beads, then simply paint the beads afterwards with acrylic paint. That will also give a more metallic shine to the finished Time-Turner.
Perler Beads Hogwarts Seal
The bigger ones -like this Hogwarts Seal below- is more time consuming but also challenging and fun to complete. We found some basic idea on google and then changed it to make it our own.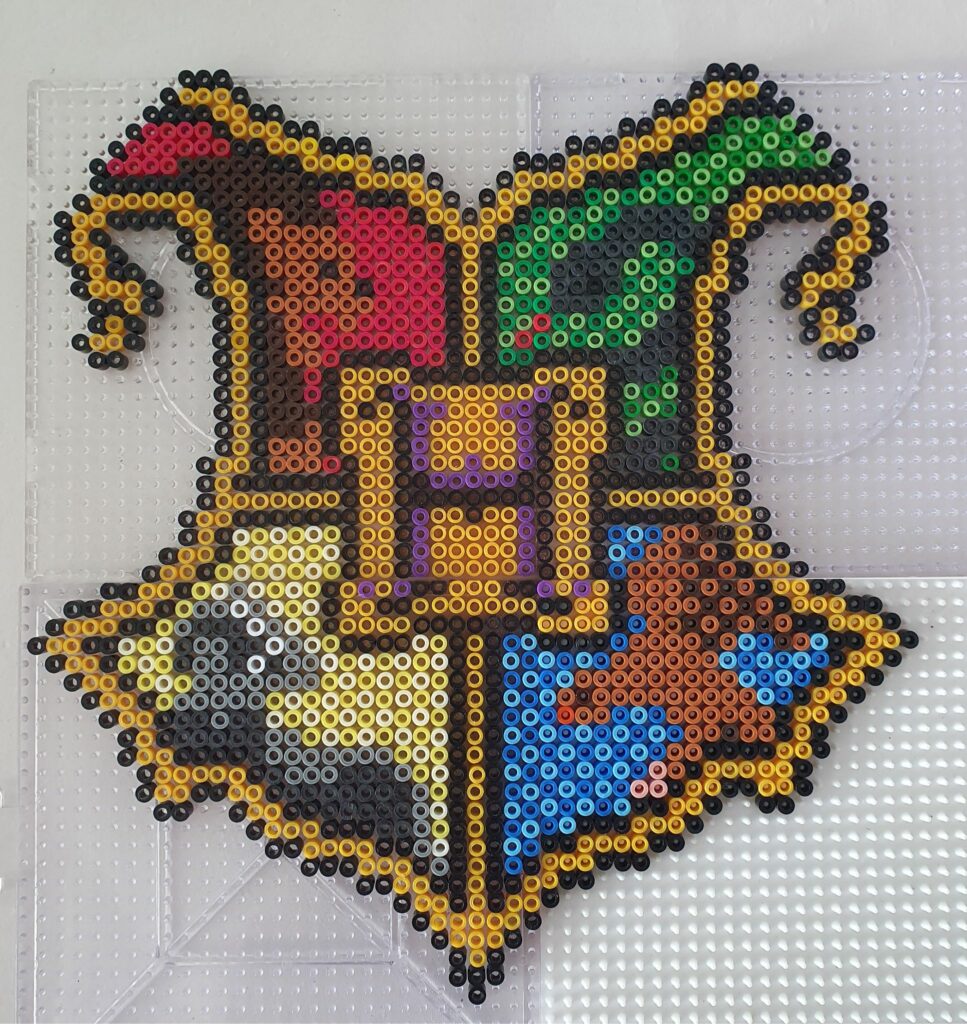 Perler Beads Harry, Hermione and Ron
We just couldn't help ourselves, and decided to make Harry Potter and his two best friends, Hermione Granger and Ron Weasley too. Complete with Gryffindor uniforms of course. We did one each over a period of a week or so, so it was easy enough to accomplish. I cannot tell exactly how long it took to make these, but my estimate is about 6 hours for all three.
Download the PDF version of these three Harry Potter Perler Beads Designs to make them yourself: Perler Beads Harry Potter, Ron Weasley and Hermione Granger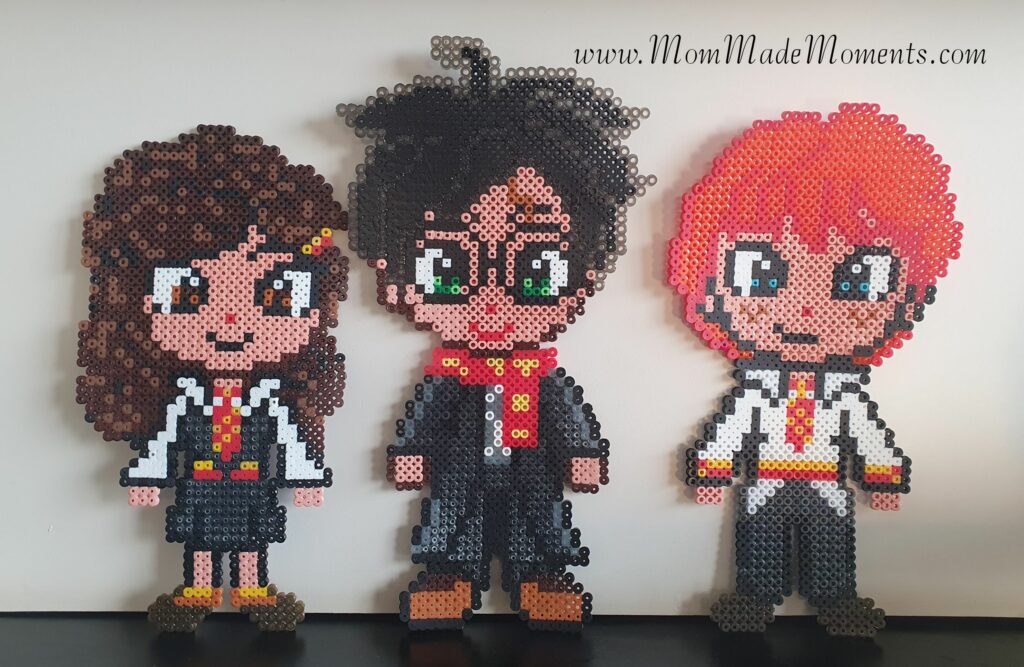 Hedwig and the Golden Snitch
These two designs are simple and will take about 20-30 minutes in total. Both very cool though and right at home in a Harry Potter Party.
Hope you have lots of fun with these designs. If you are looking for fun, yet simple perler beads designs, please click on the hama beads tag or see the category "perler beads" on top. I will keep adding new designs for all ages.
We especially love 3D perler beads designs. If you think those are fun too, then maybe the Perler Beads 3D presents are a great place to start.
Having a Harry Potter Party? See more Harry Potter DIY decorations here that won't break your budget.
Follow me on instagram @mommademoments_ or facebook (MomMadeMoments) for regular updates on new recipes, activities for kids and themed parties. 🙂
Harry Potter Perler Beads