What does every Unicorn Party need? Unicorn Party Food, of course! 🙂
We recently had a small unicorn party for my 5-year old daughter. It was a tiny party due to the current covid-19 restrictions, of course, but that didn't mean we couldn't make it fun and have themed foods, themed games and decorations as we usual do. It's sort of our thing 😉 The colour scheme was pink, purple and rainbow colours. No surprise there for a 5-year old girl obsessed with unicorns 🙂
I also take orders for themed food, cakes and decorations, so give me a call or send a message through Facebook or Instagram. The links are on top of the page.
Ideas for Unicorn Party Food -that you can do at home:
Mini Unicorn Cupcakes
These mini chocolate cupcakes are a real hit with party guests so we tend to have them in different variations for every party. See them "dressed up" a Snow White or as the cloud at the end of the rainbow too. They are airy, beautifully chocolaty and not too big, so party guests can eat one in two bites -which means less wastage too. I have used my chocolate muffin recipe to make these. Follow the instructions for the mini muffins (as they require a little less time in the oven)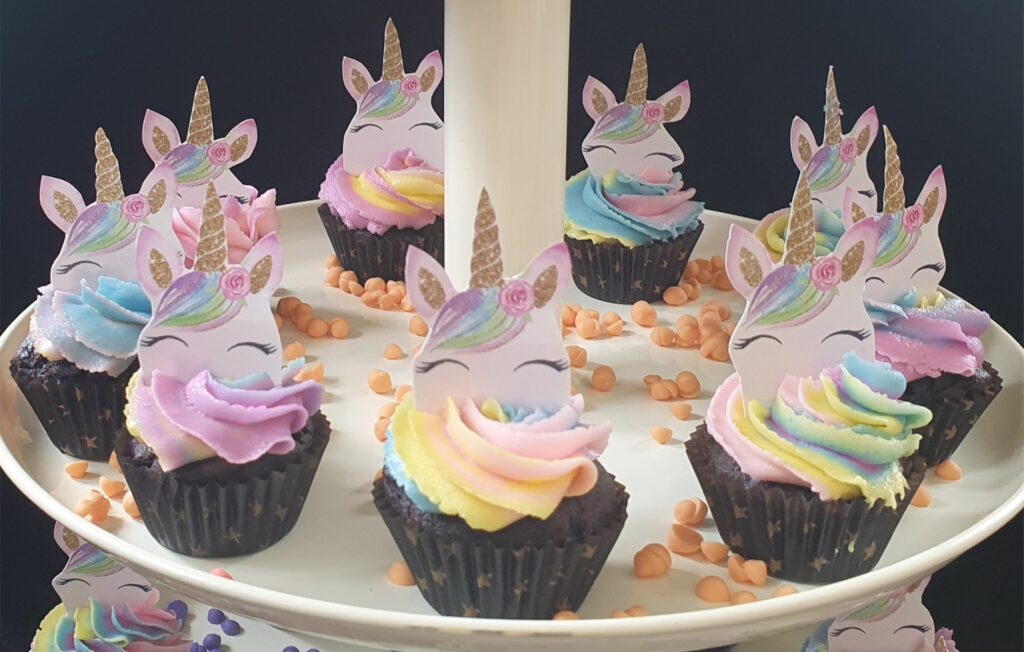 Unicorn Butter Cookies
Pretty and fun, we simply had to make these unicorn butter cookies. I used these recipes for butter cookies and easy icing. The unicorn cookie cutter is from Amazon.in.

Homemade Lollipops
Homemade lollipops -in the party theme colours of course! The kids loved these in the sweet strawberry flavour and nobody cared that they weren't all the same. You can read more about these and get all the tips and the recipe here.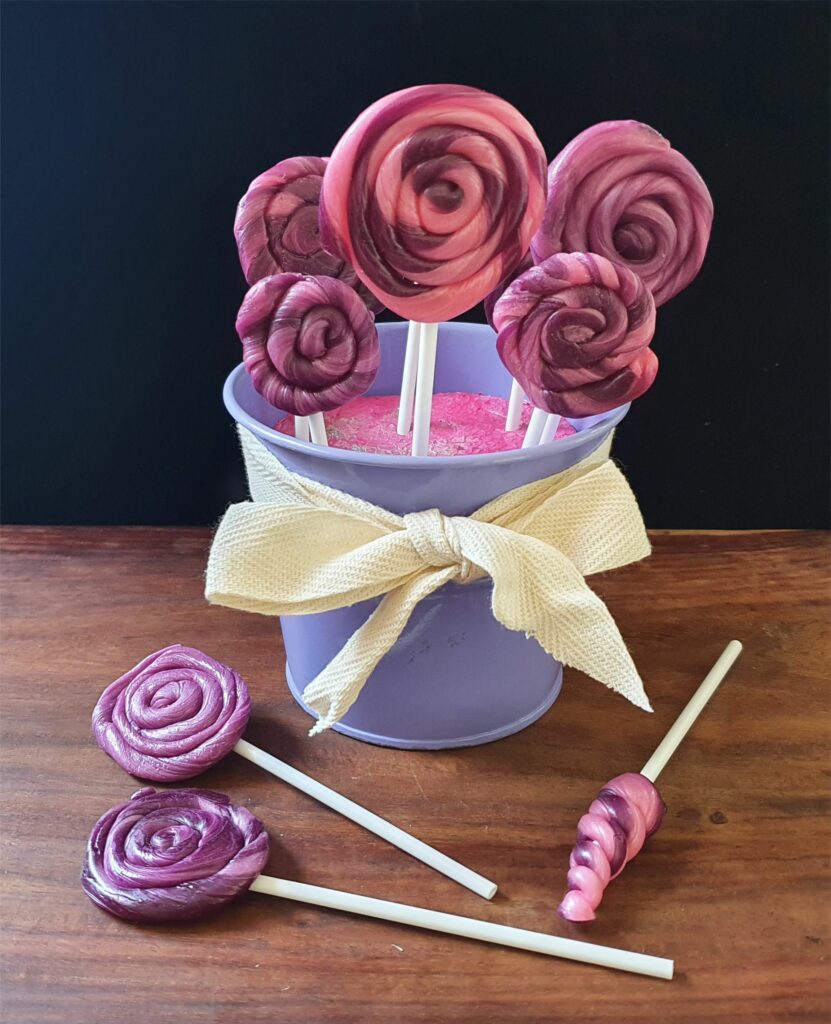 Merengue Kisses
Kids absolutely love these merengue kisses. They are crunchy, sweet and pure melt-in-your-mouth goodness. I love that they can be adapted to fit every theme. I had made them for our Trolls Poppy Party too where they were Cloud Guy's "sweet clouds". Follow this link for the full recipe and my best tips.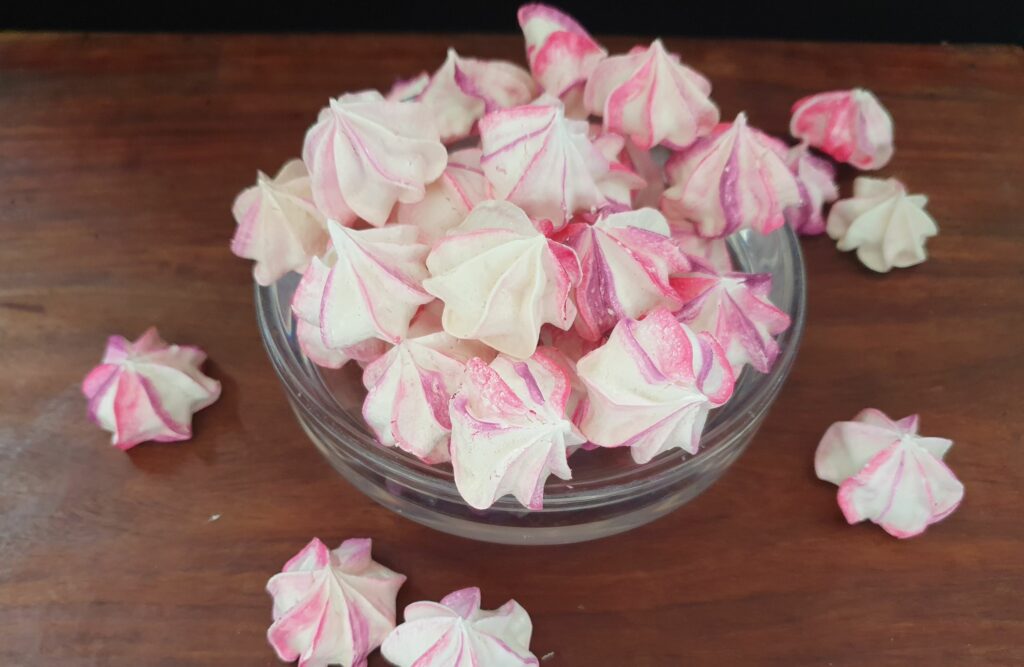 Rainbow Popcorn
My kids LOVE these! Popped popcorn with coloured white chocolate which makes them both salty and sweet, crunchy and soft. They may look slightly too weird for some people, but they are really good and so addictive. Am adding the recipe and the steps to follow soon.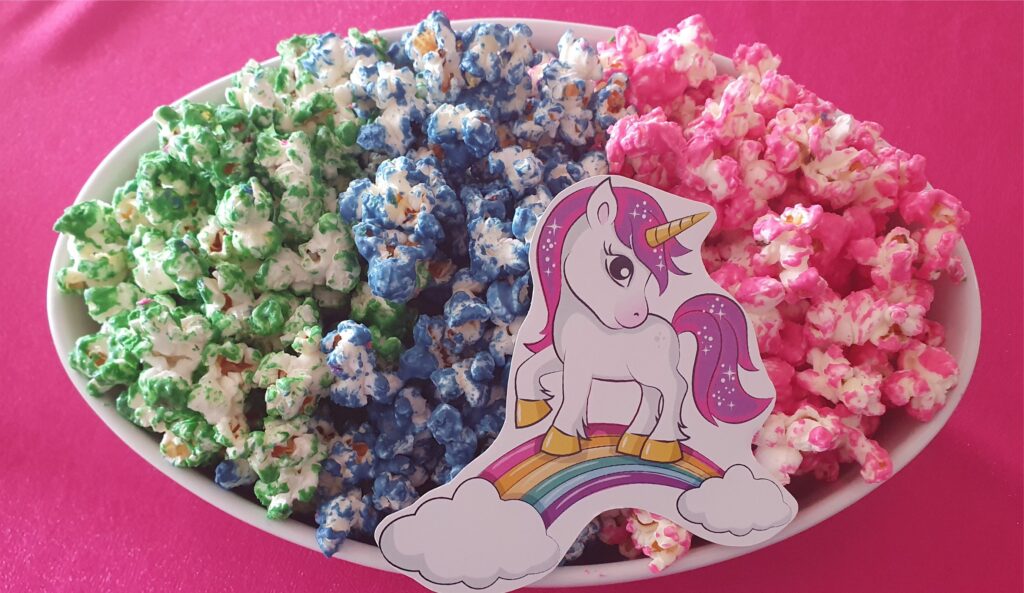 Unicorn Cake -a must for a Unicorn Party
And of course a Unicorn Cake. This is a simple chocolate cake with chocolate ganache covered with fondant and piped buttercream. The "hair" goes all the way down the back. Unfortunately I failed to take a photo of this.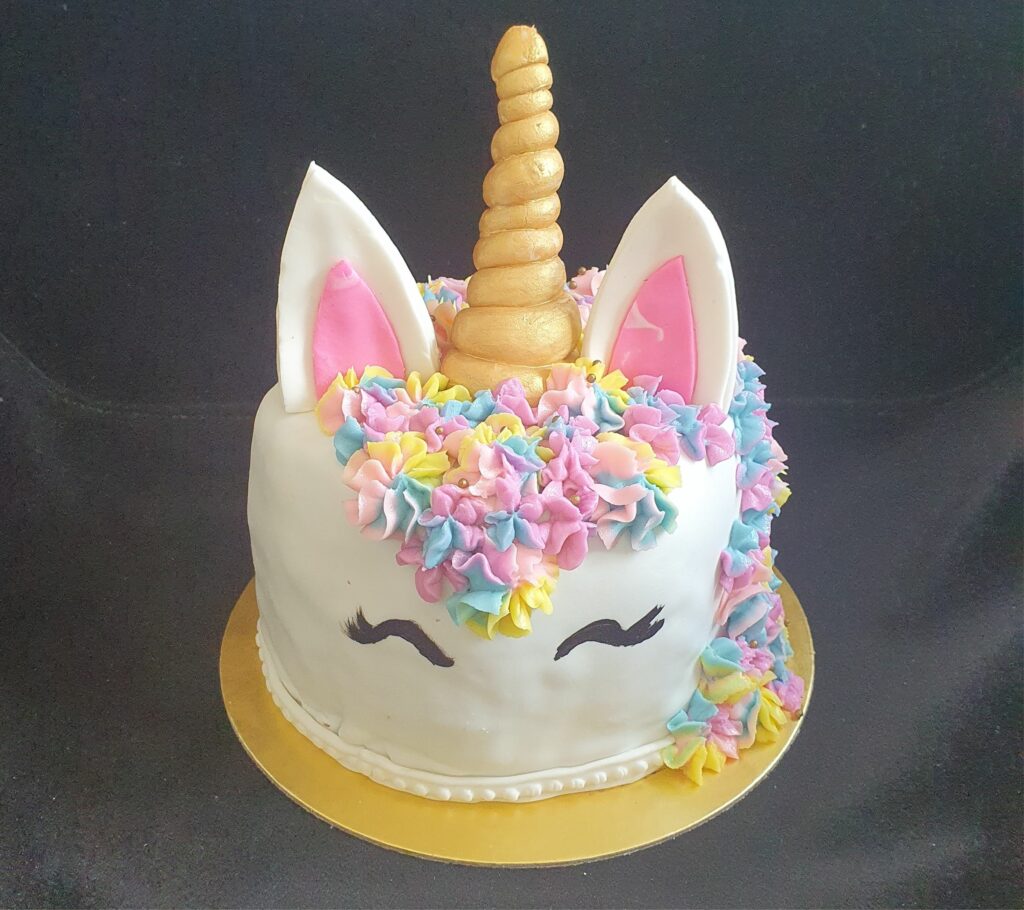 Rainbow Fruits
We needed something healthy too (as always) that still fit into our theme and this rainbow fruit plate ticks all the boxes. It's colourful and pretty -and the kids tend to eat lots of fruit when it's bite-sized and beautiful. There are lots of options for rainbow-coloured fruits depending on country and season:
Red: Strawberries, cherries, watermelon or pomegranate seeds
Orange: Orange, clementine, nectarine, mango or papaya
Yellow: Banana, pineapple or honey melon
Green: Green grape, green apple (with the skin on), green pear or kiwi fruit
Blue: Blueberries or black grapes
Violet: Purple grapes or plum

Rainbow Jelly
I had also made rainbow jelly. Unfortunately I failed to take a picture of it, so the picture below is from my rainbow jelly recipe, which you can find here on this site. I had made individual cups in smaller plastic glasses so this recipe made 12 cups of jelly instead of 6 big glasses.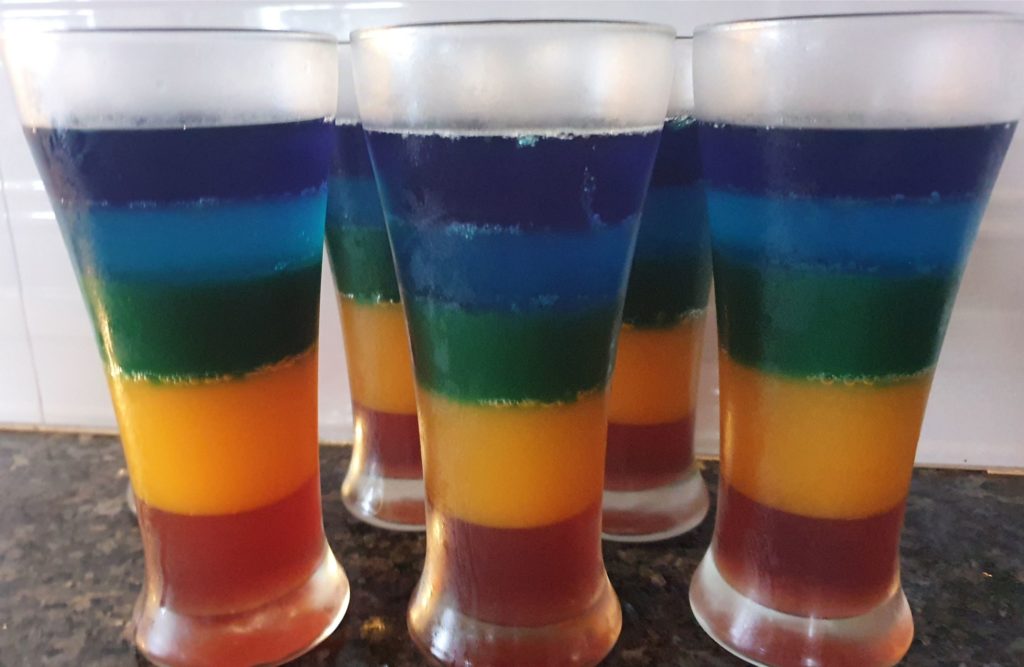 That was all our Unicorn Party Food! Hope you enjoyed this post -we certainly enjoyed making it all. 🙂
See this post for lots of unicorn games, decoration ideas and FREE downloads