Spooky-licious and healthy no-bake Halloween treats -just what every party needs! With the exception of the Popcorn Ghosts (which have white chocolate) and the Mummy Cookies (which have both fondant and of course cookies) these are all fun-filled ideas made with only fruit and vegetables… all with a little added touch to make them fun and spooky at the same time. Just what every Halloween party needs.
Kids love these healthy no-bake Halloween treats
My kids made most of these with me -with the exception of the watermelon jack-o'-lantern- so they are tried and tested fun for everyone to make (and of course to eat!)
See my comments below each idea for the ingredients and tips.
I am now also on YouTube under the name MomMadeMoments. See my latest video below for quick inspiration for this yeas Halloween treats. You can also subscribe by clicking the logo in the corner.
Read on for all the Halloween inspiration you will need this year while keeping it healthy and easy too. Click here to find inspiration for easy DIY Halloween decorations for kids.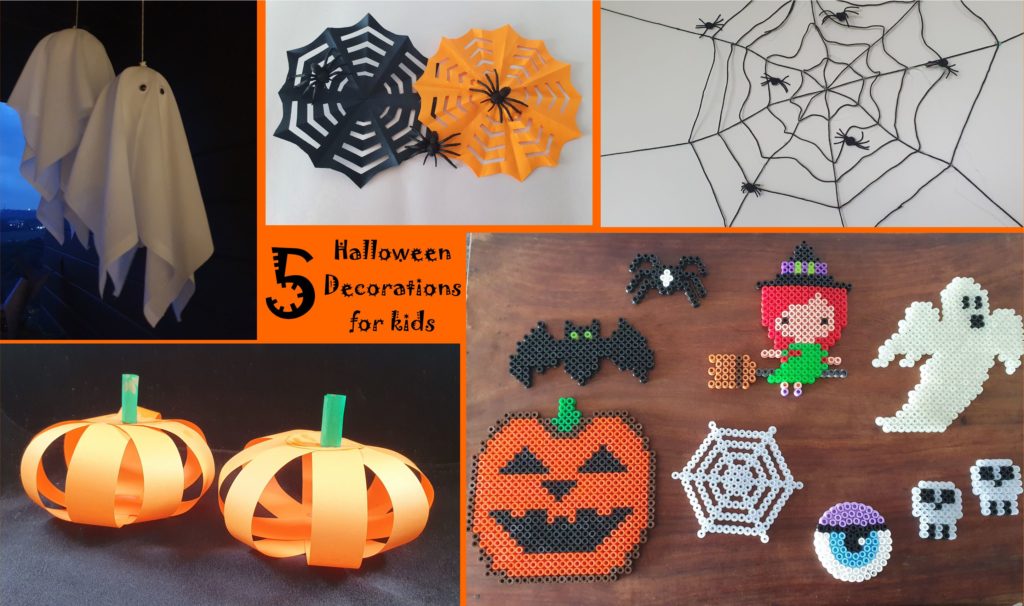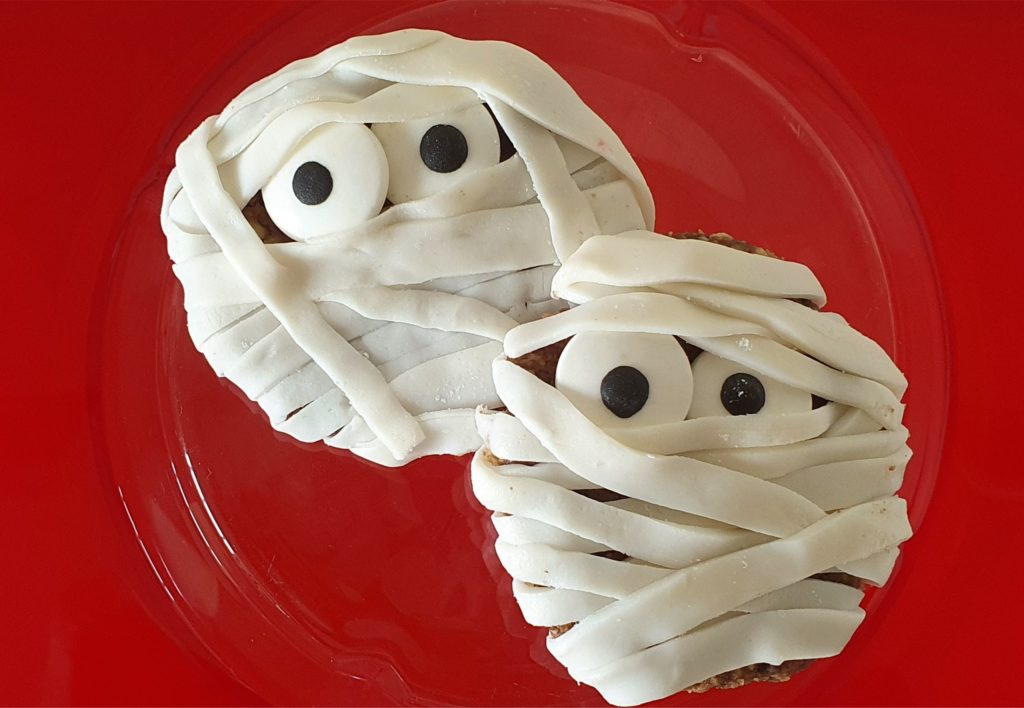 Mummy Cookies
Easy to make with a little white fondant cut into strips and edible eyes from Wow Confetti. Wrap the fondant strips around cookies or biscuits. I used this chocolate cookie recipe but you can also use store bought cookies to make it easier or these healthy vegan cookies to make it healthier. Delicious to eat and fun for kids to do. My 11-year old made these two. It was a bit hard to make the fondant stay in one place, hence my 4-year old struggled a bit with these -her mummies still tasted great though and she had fun while making them so I still considered it a win 🙂
Clementine Jack-O'-Lanterns
Give the kids black marker pens and your healthy snack is done. These Clementine Jack-O'-Lanterns also double up as Halloween decorations, they are fast to make and doesn't require any special cookie cutters or special skills.
TIP: Make sure the clementines are dry and preferably kept at room temperature before drawing on them, otherwise your marker pen will only work for one clementine. You can tell that my daughter is struggling a bit to make the pen work in the video above, and that is because the marker pen got a bit wet at first.
More healthy no-bake Halloween treats…
Carrot R.I.P. Gravestones
Another healthy Halloween treat! My kids love to eat raw carrots and thought the added butter icing on them was delicious. I used pumpkin seeds as the cemetery ground.
TIP: Use the biggest carrots you can find to make gravestones and cut them into thin strips.
Popcorn Ghosts
Made from popcorn, Wow Confetti edible eyes and melted white chocolate.
Melt the white chocolate in the microwave for a minute or two on defrost setting. Be careful not to burn. Mix the white chocolate with a spoon until glossy and mix a handful of popcorn into it. Let them set on a piece of baking paper. Add the eyes before letting the chocolate set completely. I used about 20gr of white chocolate for each popcorn ghost.
Watermelon Jack-O'-Lantern with spooky "Brain Juice"
Make the Jack-O'-Lantern from a watermelon this year and get to eat it all! I added the watermelon juice in a little pot on top as a creepy reference to the brain scene in the Hannibal Lecter film which was all kinds of disgusting (the images still haunt me nearly 20 years later)
For the kids -who haven't seen any of the Silence of the Lamb films of course- they just thought it was delicious and fun to add juice on top of "the head"
Cucumber Frankensteins
Cut a cucumber into 7-8cm long pieces and cut out eyes, nose and mouth. Add a toothpick through the base of the cucumber. I added a piece of homemade dried fruit bars as nails and hair. The eyes are half a pumpkin seed with a small black dot made with a Wilton edible pen as the pupil.
Bat-shaped Vegan Cookies
Made from my double chocolate vegan cookie recipe which has no gluten, oil or even sugar (I usually add a single spoon of sugar to sweeten them up a bit but it's not strictly needed)
If you want to make these bats without baking, I would make them with this dried fruit bar recipe. That will work just as well.
Apple Monster Mouths
Cut an apple into 4 pieces and cut an opening in the middle. Add sunflower seeds as teeth. We coloured some of the teeth with a Wilton edible pen but I actually like the ones without colour better. Delicious and healthy treat that takes 5-10min to make.
Hope you liked these no-bake, fun Halloween ideas. Happy Halloween!
8 Healthy No-Bake Halloween Treats