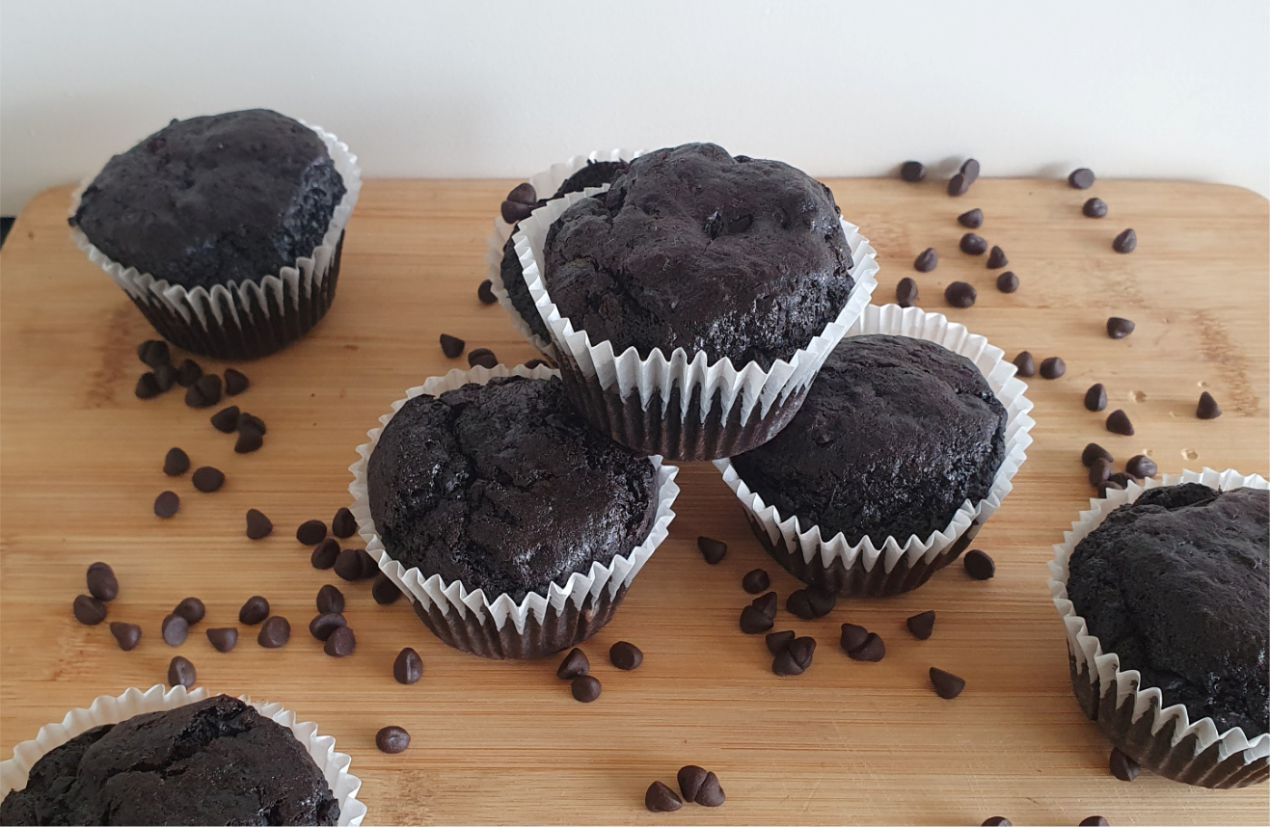 These eggless banana chocolate muffins are quick, easy and delicious, which equal one of my all-time favourite recipes! Plus there is no mixer required -just two bowls, a fork and a spoon. It simply can't get easier than this!
Eggless Banana Chocolate Muffins
These muffins are super delicious with that little hint of banana in them -not too overpowering so the kids won't like them- but enough to make them healthier and super soft. It's also a great way to get a little bit of fruit into the kids like my Healthy Banana Pancakes (sugar-free) which are perfect for a quick snack.
Don't like banana in cake? Try out my regular Double Chocolate Muffins. Easy to make and super soft and delicious.
See the detailed step-by-step guide on how to make these muffins below the ingredients. Remember that you can cross out the ingredients on the list as you add them. It has never been simpler to bake with kids -or to send them into the kitchen alone and wait for yummy cupcakes later. 😉
The muffins are delicious on their own, but equally great with a little decoration. I have added some buttercream flowers on the picture below. Find the easy recipe here.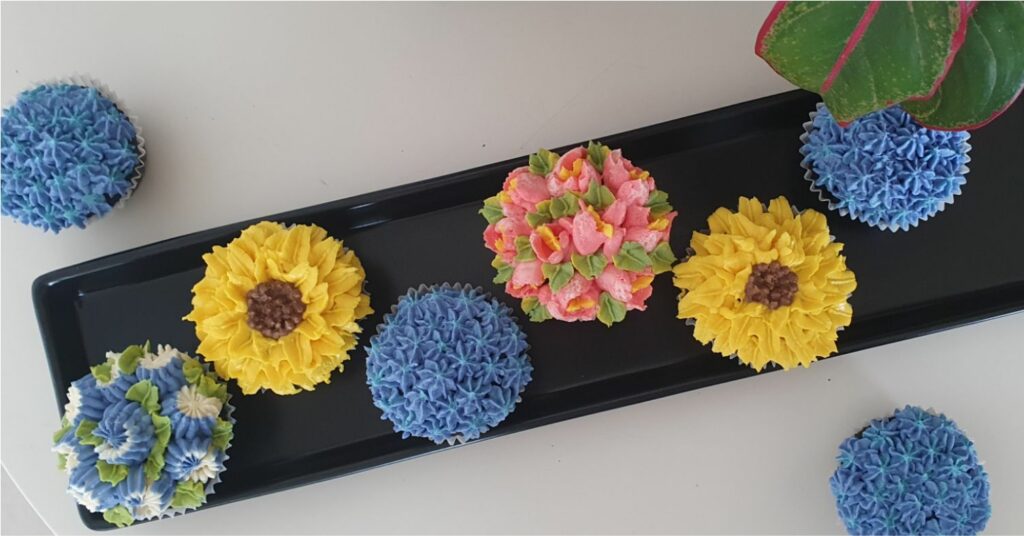 Turn your old bananas into tasty eggless banana chocolate muffins
This recipe required about 3-4 big bananas depending on the size. I don't like any kind of food waste and if you are like me, you'll see that this is the perfect recipe for using them instead of throwing them. The brown bananas are also sweeter and they are the easiest to mash so it's a win-win situation. You can also freeze the old bananas in a freezer bag or tupperware and then use them whenever the baking mood strikes. I usually peel them before freezing -it makes it easier when you want to defrost and use them.
What equipment do you need?
Silicone muffin moulds or a muffin tray. Line the moulds with cupcake liners before filling and baking. If you don't have the moulds, don't worry, the cupcake liners are enough. I prefer to use the moulds as they keep the muffins from "flattening out" while baking. If you plan on making muffins more than once, I recommend getting some. They are available on amazon.in or in your local household store for less than Rs 200/-
Two bowls, a fork and a knife. One for the dry mixture and one for the wet. It's really that simple.
One more tip before you begin…
When it's time to insert a skewer to see if the muffins are done or if they need a minute longer in the oven, please be aware that it's a bit trickier when there are chocolate pieces in the batter. If the skewer touches one of the chocolate pieces, it WILL come out full of chocolate and you might think the muffins aren't fully baked. The muffins could still be ready, so try a few different places and different muffins to be sure. Remember to wipe the skewer clean in between.
Yield: This recipe makes approx. 18-20 medium sized muffins
Eggless Banana Chocolate Muffins
Follow The Directions
Start with preheating your oven to 200 degrees celcius
Step 1
Step 2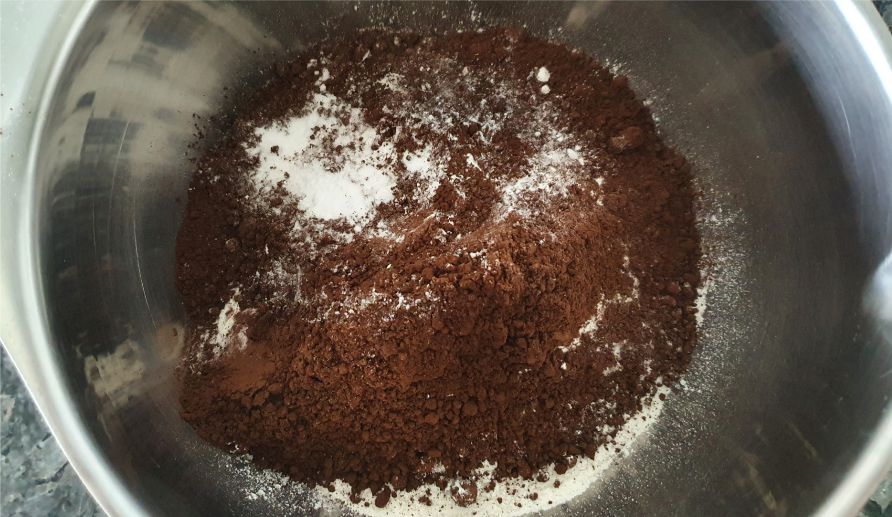 In a bowl mix all the dry ingredients; flour, caster sugar, cocoa, baking soda, vanilla sugar
Step 3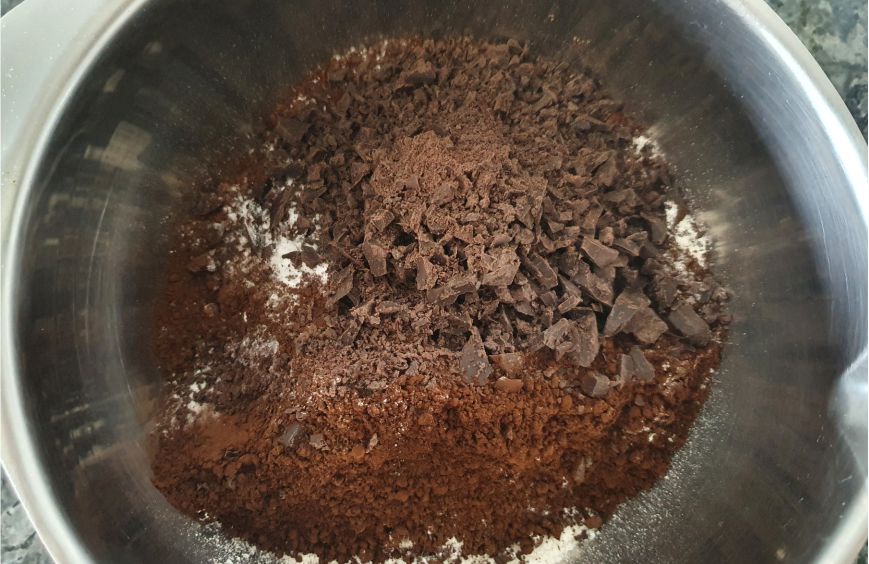 Chop the chocolate and add it to the dry mixture. Mix well.
Step 4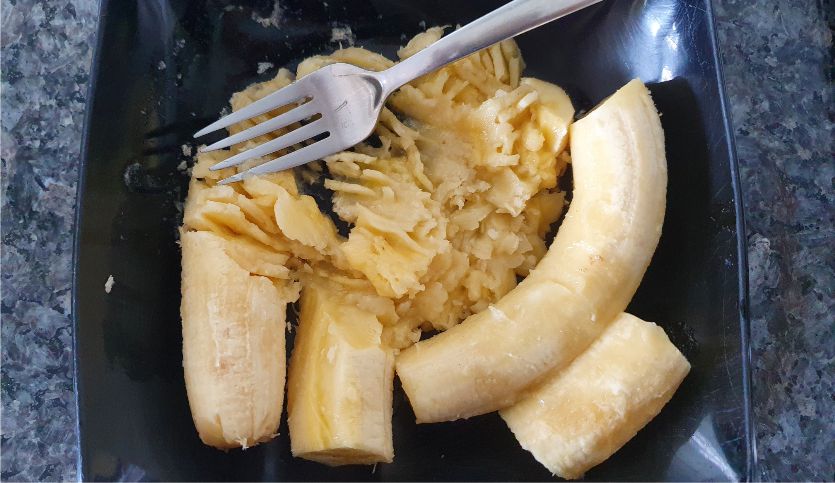 In another bowl mash the bananas with a fork
Step 5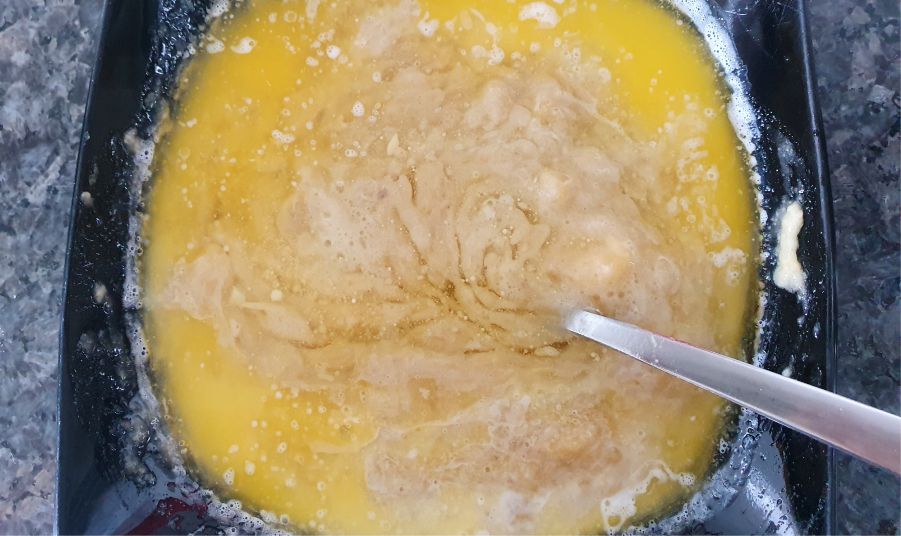 Then mix the mashed bananas with the milk, oil and butter
Step 6
And your muffin mixture is done.
Step 7
Line the cupcake moulds with cupcake liners and fill them ¾ with the batter. Make sure you don't fill them to the top as they will rise in the oven.
Step 8
Bake the muffins in the middle of your preheated oven for 15-17min You will know they are fully baked by inserting a skewer (or the tip of a pointy knife) into the middle of the muffin. If the skewer comes out clean, it's baked and it's time to take them out of the oven.