If you haven't had time or energy to make any decorations for Halloween yet, read on for my five best and easy Halloween decorations for kids in less than 15 minutes.
Kids of all ages can take part in making these decorations. They are simple, yet fun and Halloween-y. And they won't cost you more than a few hundred rupees.
In my experience kids LOVE to make these paper spider webs. Probably because they are fast and simple to cut and the result is usually good.
These origami spider webs don't have to be 100% perfect to be creepy and scary and add that little extra to your Halloween decorations. It's also nice with some Halloween crafts that literally only require a sheet of coloured paper and a scissor. I bought a packet of 100 sheets of coloured paper from amazon.in for less than Rs 200.
Follow my step-by-step instructions below to make a spider web in less than 2 minutes.
2. Halloween Perler Beads Decorations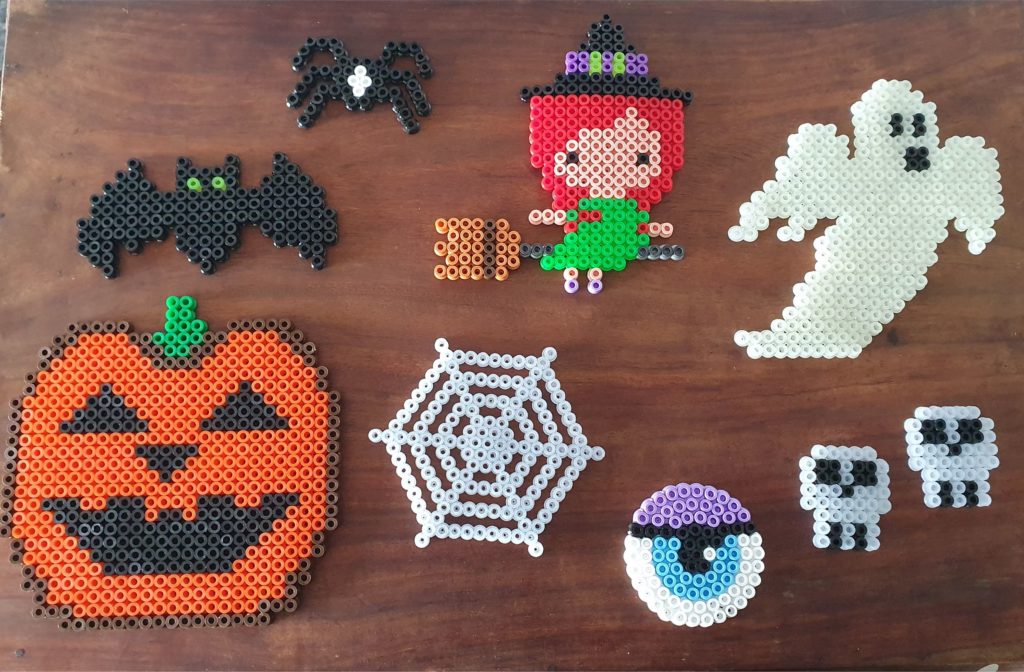 This is almost always our first thing to do when we want to start making any kind of decorations, be it for Christmas, Diwali or in this case, Halloween.
It's fun to come up these perler beads designs and if ever in doubt about what to make, there are lots of options online (or here on this website of course). They last forever -or at least for many many years and kids and adults of all ages can take part. Find many more perler beads designs here
We made some to hang from lamps (the witch, ghost, eye and spider web), some we made into earrings (the skulls) and some just for spooky extra decorations around the house (the bat and the spider). If you are new to perler beads design and unsure of how to do it, please see my quick how-to video down below.
If you don't already have a stock of these plastic beads somewhere in the house, I would recommend getting the mixed pack of colours from Ikea. They are also available on Amazon.in. They are not so expensive and you get a nice mix of colours. If you are searching for beads online, use the word "perler". It means beads in Danish and has also become the internationally recognized word for these small cut plastic tubes. Lots more perler beads designs are coming up soon.
We LOVE that some of the beads are glow-in-the-dark. Extra spooky and fun for Halloween.
See my how-to video here on how to make and iron the beads. I always iron them on both sides. They become harder and last longer which is a big plus in my book as you can reuse the perler beads designs year after year.
More Easy Halloween Decorations below…
3. Paper Pumpkins
Cute and very easy to make -even for smaller kids. My 4-year old made these with only a little guidance. You will need a piece or orange paper and a small bit of a green one (or you could colour a piece of the orange paper green)
Cut 4 strips of paper lengthwise and two small orange circles. We used half a piece of A4 sized paper for the 4 strips.
Put glue on one of the circles and place the strips on top of it as shown
Put glue on the other circle and turn it upside down
Stick the paper strips on the circle
Roll the green paper and glue on top of the pumpkin
Leave to dry and your origami pumpkins are ready
Start by getting your ingredients ready as seen in step 1 on the picture below. You will need:
1 balloon
1 piece of white cloth -any size will do. Even a small piece of cloth can make a ghost. Just keep the balloon small too.
2 googly eyes and glue OR a black marker pen to draw the eyes on the cloth
Piece of string
Get all the ingredients ready
Blow up the balloon and cut a small hole in the middle of the cloth to fit the balloon lip through.
Add the googly eyes (or draw the eyes with a marker pen) and cut of as much of the balloon end as possible. Tie the string around the balloon. It's better if the string is thin and "invisible", but even white cotton sting works.
Hang the balloon ghosts outside the house from a tree or branch so they move in the breeze or from the ceiling indoor (or outdoor on a balcony) with a piece of tape or blue tag. They don't weigh much so they will not fall down.
5. Spider Web & Spiders -made entirely from string and glue
This spider web is fun to make and inexpensive too. It took about 15min to make this spider web and five string spiders. See all tips and my full guide on how to do it here.
Hope you liked these fun 15-minute craft ideas. If you need more inspiration for Halloween, check out my post about healthy (and spooky) Halloween food here.
Happy Halloween.
5 Easy Halloween Decorations For Kids