Drawings are great no matter the age of the artist; the stick legs, the blue faces, rainbow coloured houses and people with 14 fingers show so much creativity and imagination as Harry Potter faces, peacocks and intricate designs do later on. I -like most parents- hang their beautiful creations on the fridge for a week or two (usually until it is so overfilled that we have trouble finding the fridge handle!) and the drawings then "go and live" in a sad box… until I come up with the latest way of adding color to the walls. Here are some of my ideas.
Decoupage
Decoupage your child's drawings onto a toy, a pencil holder, the wall, a canvas or anything you would like really. It makes the drawings stand out and they can last forever like this… or at least for many many years.
Drawings made with sketch pen tend to "run" a bit so drawings made with crayon or colour pencils work best. See how to do it here


Canvas print
A beautiful way to display lots of drawing without cutting the actual drawings.
I scanned all the drawings into the computer and set them up in a software program called CoralDraw. Or you can make it even easier and get the local printer guys to do it for you.
Ask for canvas print. It costs Rs 200 per ft2 in Goa so this option is not the cheapest one. But it looks stunning once it is done and your children will be so proud to see their drawings in use. A great gift for grandparents and aunts too. We have had ours up for 5+ years now and they prints haven't faded and the drawings are still as cute as ever.
This option works best with colorful drawings.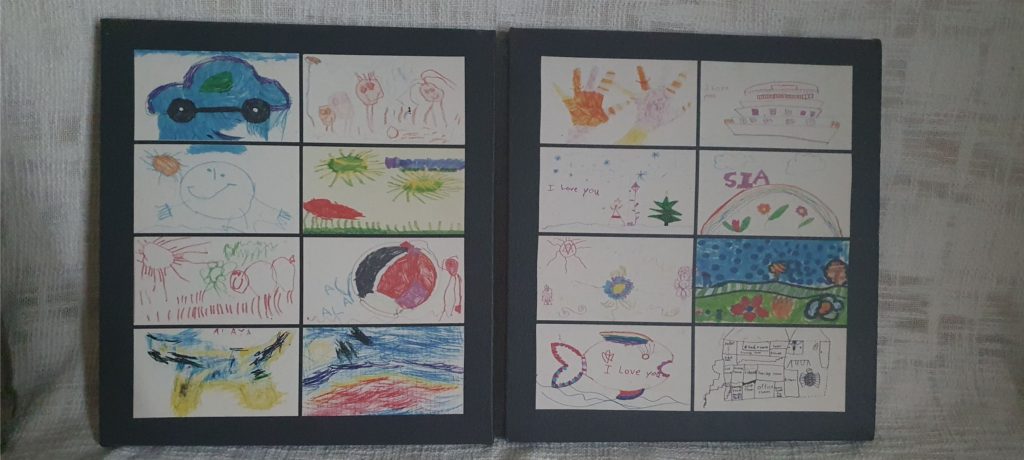 A single frame with 25 paintings
It's a made to order frame by a local frame maker. Each square is 10 by 10 cm (with 2cm in between) and the drawings can be changed again and again.
You will need to cut the drawings a bit to make them fit, so make sure you have permission first.
I did this one 9 years ago and still haven't had the heart to change all the little finger paintings. But am sure you will do better than me. I have the same frame with family photos and I manage to change those yearly.
Frame individual prints for a large collage
I have made these for our garden wall and the otherwise boring staircase wall in the building -with permission first of course. The idea is simple enough and doesn't require lots of effort. I just bought lots of cheap frames from the local market and hey presto! The wall was transformed. For outdoor walls I recommend laminating the pictures first so they don't get damaged by rain.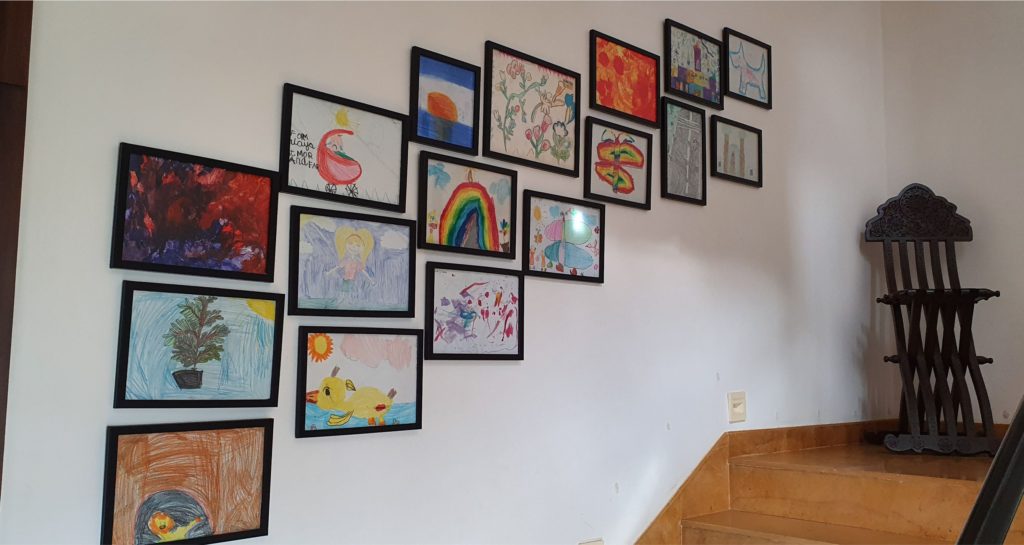 Hope you could use some of these ideas. Please let me know how you got on and if you have done anything to display your child's artwork in and around the house. We can all benefit from your ideas and experience.
4 ways to display your child's drawings